Best Quilt Covers to Buy in 2022
Author: Manchester Collection Date Posted:24 June 2022
Are you looking for a new quilt cover? We have singled out a few popular ones that are in line with bedroom trends for 2022. Take a look!
A person's bedroom is their sanctuary and the centerpiece of that room is a nice and comfortable bed. But the bed is more than just a piece of furniture you sleep on. It's something you can use to express your style while also choosing the perfect accessories that will make the bed even more comfortable.
This is exactly what quilt covers are for. They improve the look and feel of your bed thanks to their beautiful design and soft fabric.
If you're living in a contemporary home and are looking for a beautiful quilt cover that will make a statement and fit into your home's design perfectly, look no further than the Amari quilt cover set.
The cover itself was made in a classic quilted style and uses art deco that will fit any home wonderfully. The grey shade is beautiful and elegant, as is the design of the quilt cover, so it will fit any home nicely.
If you want to add a little something special to your bed, you can line it with cushions and throws. And since the set comes with two matching pillowcases, you can be sure your bed will always look stylish.
The cover is made out of a blend of cotton and polyester, but the front itself is polyester. Keep in mind that this fabric is delicate so if you want to avoid ruining this beautiful quilt cover, it would be smart to avoid sitting directly on it.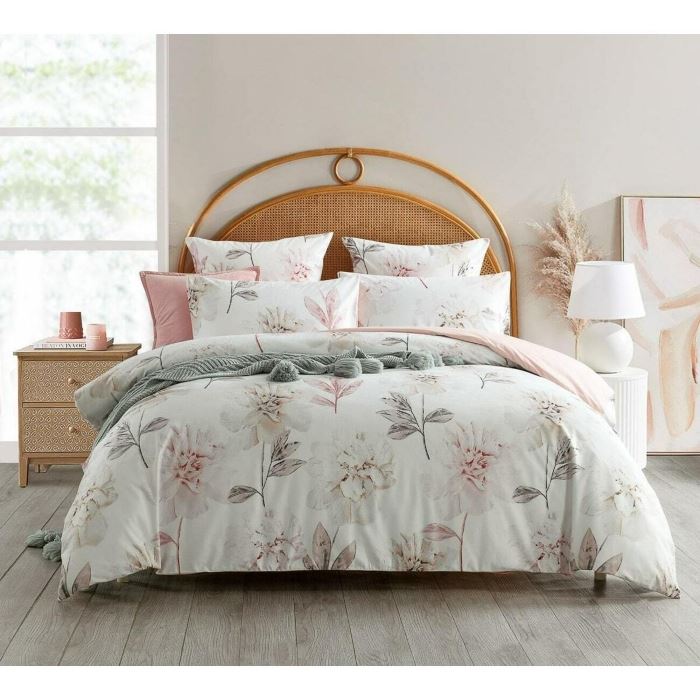 The front of this beautiful quilt cover set is made of polyester corduroy velvet digital print, while the reverse is made of the cotton and polyester blend.
The quilt cover set includes the cover and two standard pillowcases. Its flowery design will make your bedroom the perfect place for rest.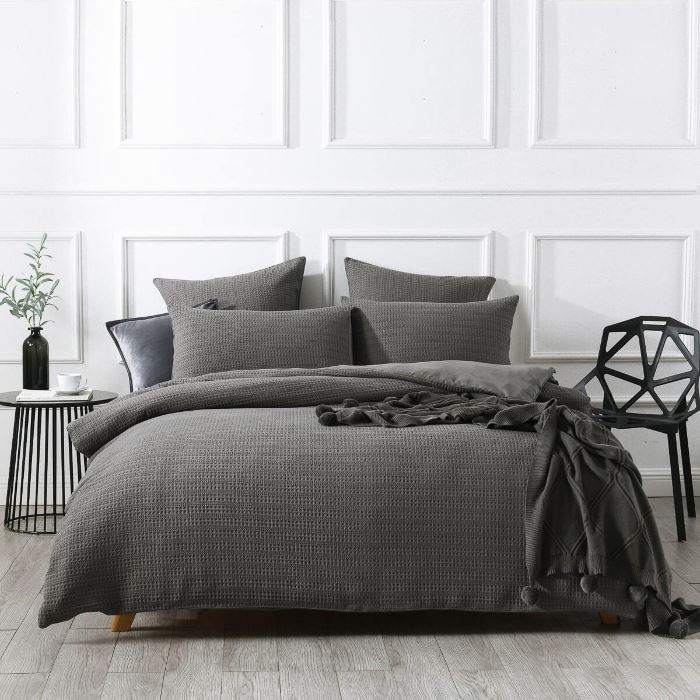 While some people prefer bright quilt covers, others are more drawn to darker shades as they give off a timeless look of luxury. And if you're one of those people who love dark shades and enjoy minimalistic designs, the Jax Chunky Waffle Charcoal Quilt Cover Set is perfect for you.
This cover sate has a completely clean and textured design in a beautiful charcoal colour that doesn't only look modern but also inviting. And since the cover itself is made from 100% cotton, it's incredibly soft and breathable, meaning it will surely provide you with a good night's sleep.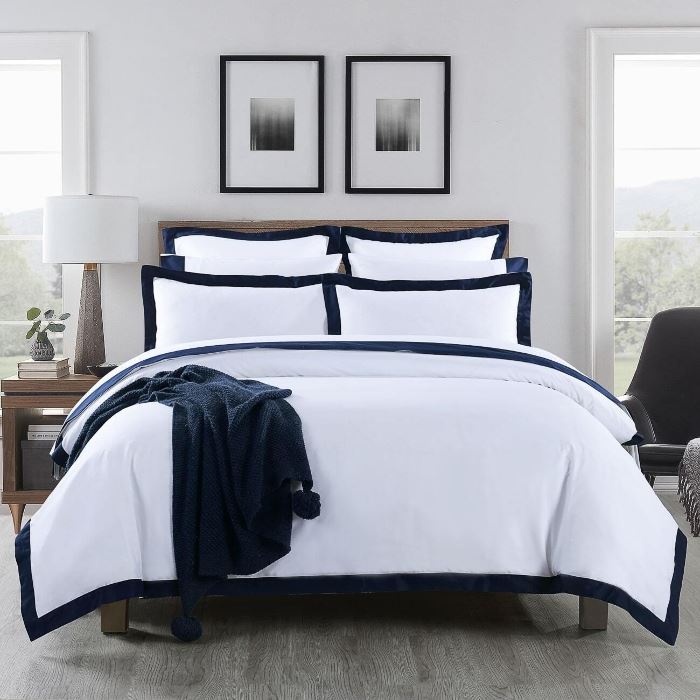 If you're looking for a quilt cover that will make you feel like you're always on holiday, you can get yourself a quilt cover that will turn your bedroom into a luxury hotel. That is exactly what you will achieve with the Plaza Navy 1000TC Quilt Cover Set.
The blue-white design with bold lines was inspired by the modernist architecture of 1930s Italy, so not only is this quilt going to radiate luxury, it's going to add a vintage touch to your bedroom.
It was made with 100% long-staple cotton and has a 1000 thread count so you can be sure that the fabric is not just beautiful, but also breathable and comfortable, which makes it great for summer. If you want to complete the look, you can buy matching sheets that come with a ribbed elastic hem.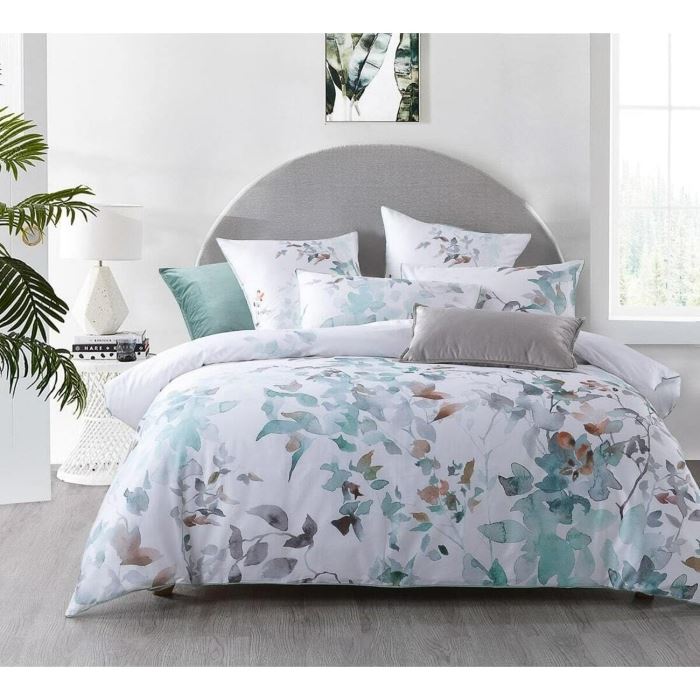 Those who do love bright colours and things that remind them of nature will probably love this Botanist Quilt Cover set that comes with a quilt cover and two standard pillowcases. The design features a floral print that will make you feel like you're sleeping in a beautiful meadow.
As for the colours of the quilt, it's in a beautiful pastel shade that will work well with nearly any bedroom design. And if you know anything about bedroom trends in 2022, you know that neutral colour schemes are all the rage so a pastel cover set will not only be beautiful, it will also be modern.
Of course, beauty won't mean anything if it's not paired with comfort. Luckily, this quilt cover set has both since it's made out of 100% cotton and has a 400 thread count.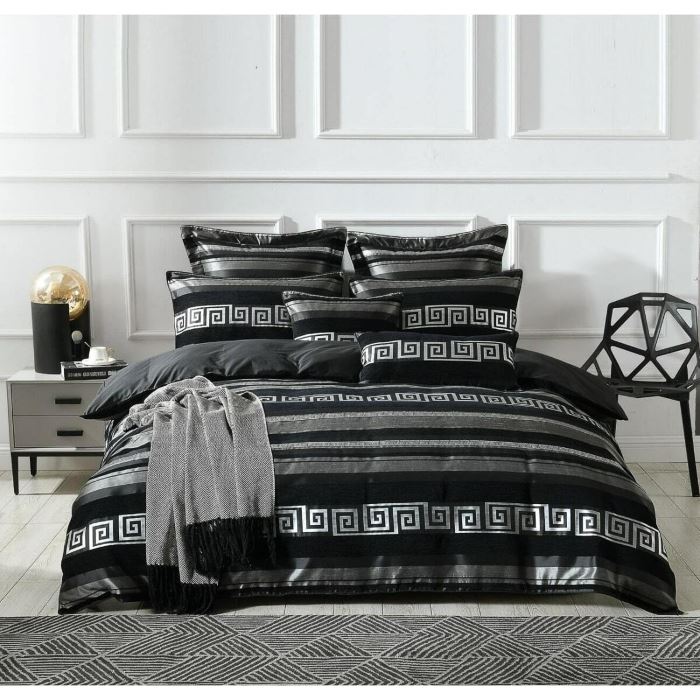 Another great quilt cover that would look amazing in a contemporary home is the Ambrose quilt cover set that features a Greek Key style that is always a classic and can't go out of style. The colour pallet is grey, black, and silver, all of which work amazingly together.
This quilt cover is made out of a cotton blend which makes it perfect for the summertime and the front is made out of polyester jacquard.
The design of this quilt cover and its colour palette allows for great imagination and you can easily style it with cushions and throws. If you want to make the style pop even more, you can purchase a matching decorative cushion which is sold separately.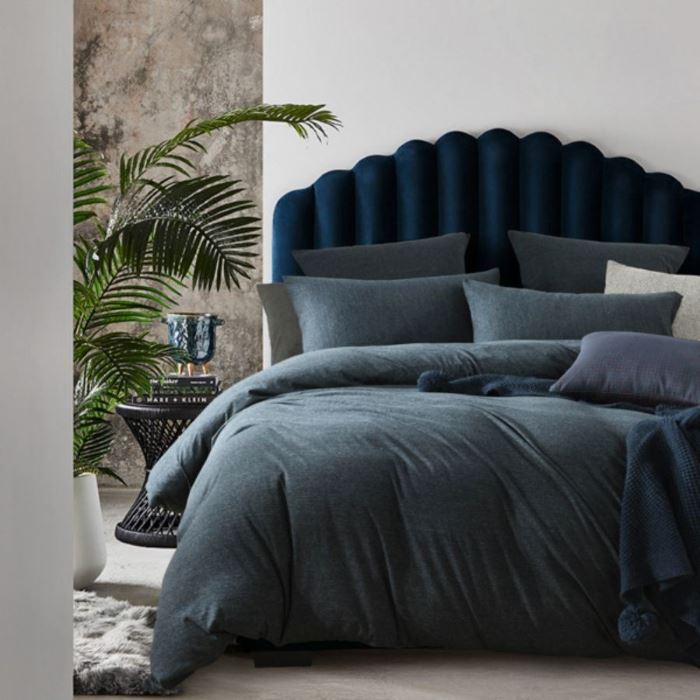 For those who want a quilt cover they can use year-round, the Jersey Quilt Cover Set Indigo Navy is a perfect choice. It's made out of 100% Jersey Cotton which makes this quilt cover extremely soft to the touch, and it is bound to give you a comfortable night's sleep.
This quilt cover will keep you warm during cold winter nights and cool during hot summer nights, and won't make you sweat regardless of the weather thanks to its Jersey Cotton construction.
You can go with the classic navy colour but there are also other colours you can choose from, meaning no matter what the interior style of your bedroom is, this quilt cover will fit in nicely. The quilt cover also comes with a hidden zip which will save you a lot of time.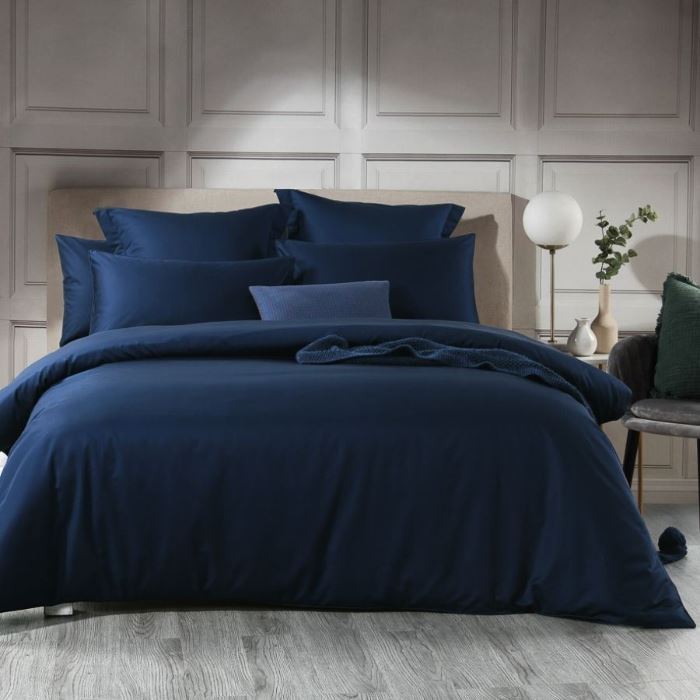 All of the quilt covers we've talked about are extremely high-quality, but the Soho 1000TC Quilt Cover Set is on a whole new level. The 1000 thread count quilt cover is made out of 100% long-staple cotton, which gives it that luxurious feel and unbelievable comfort.
If you want a cover set that looks and feels like something you could only find in a five-star hotel, this is a quilt cover you don't want to miss out on. Its navy blue colour makes it look like it was made for royalty, which is exactly how you'll feel when you sleep underneath this cover.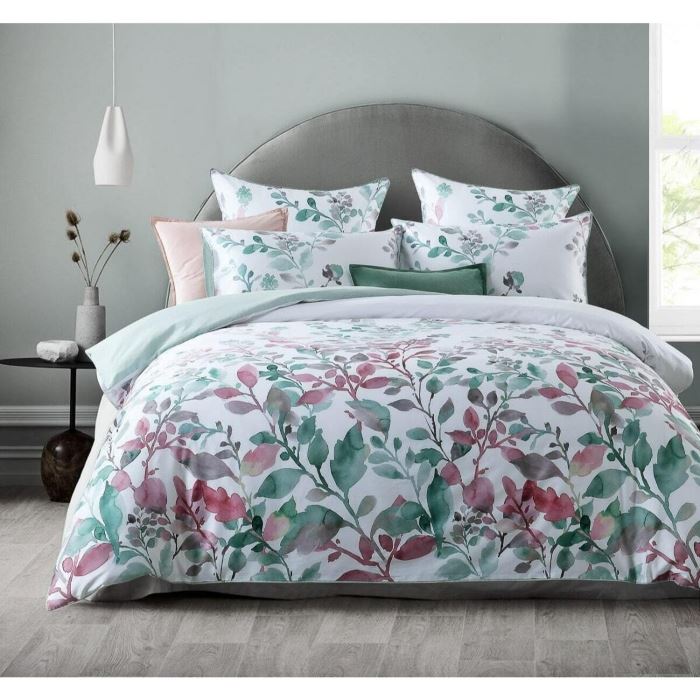 People who love bright quilt covers will fall in love with this Cascade Quilt Cover Set which features pastel shades and a floral print. If you want to add a flowery feel to your bedroom and make the space feel enchanting, you can do so with this quilt cover.
It's made out of 100% cotton and has a 400 thread count. Not only will it make you feel like you're sleeping in an enchanting garden, but it will also keep you warm and comfortable at the same time.
Conclusion
Just like every person is unique, so is every bedroom. This is more than just a room you sleep in, it's your sanctuary away from the troubles of everyday life. And if you want to make the most out of this room, you should decorate it well, and as a cherry on top, have the perfect quilt cover.
Here is a quilt cover buying guide that will help you narrow your choices and find the best fit for you. No matter what your aesthetic is, one of these covers was bound to catch your eye, if not all of them.
---
Leave a comment