Quilt Covers - Buying Guide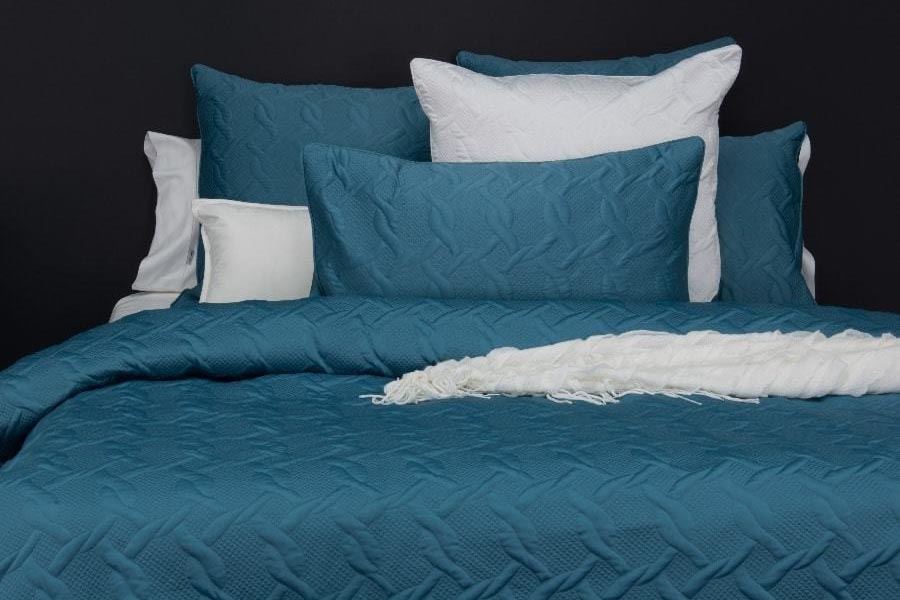 We're here to help you give your bedroom the perfect finishing touch.
Whatever your taste, style or budget – the stunning quilt cover range at Manchester Collection is sure to offer something that matches your taste and budget. As trusted experts who know all there is to know about quality bed linen and home décor, we've honed our craft for over twenty years, and we're delighted to share our passion with you as you decorate your home.
Key Considerations
Hunting down your ideal quilt cover needn't be stressful, but for anyone feeling weighed down by the burden of lots of jargon and the sheer variety on offer, don't panic! We've answered some key questions and outlined the things you'll need to consider to ensure you find your perfect match right here.
Thread Count
A thread count details the number of threads per square-inch of fabric. The measurement is calculated both lengthways (warp) and width-wise (weft), to produce an overall number.
As a general rule, the higher the thread count the softer the material. The basic premise is that when finer threads are woven together, it leads to a more luxurious feel.
120-180 Thread Count – Best suited to basic use, such as decorating for a rental property or a spare bedroom which won't be occupied each day.
200 Thread Count – Best for summer usage, this will produce a light and airy fabric which is also high quality. A 200 thread count cover is a great option for those who want to enjoy a great night's sleep on a budget.
400 Thread Count – The best of both worlds, this thread count is soft yet also durable, and is often used by major hotel chains to promote great sleep. The fabric will still be cool enough to use year round yet is a little cosier than 200 thread count.
600 Thread Count – Towards the more exclusive end of the market, this thread count produces the ultimate smoothness. Many luxurious hotels use this thread count in their linens to help promote their exclusivity, and it's also regarded as one of the best commercial thread counts for recreating a similar feel at home.
800-1000 Thread Count – This is the pinnacle of luxury, with full fabric and robustness sure to stand the test of time. For those seeking duvet covers they'll still be proud to use decades later, this is the kind of thread count to look out for.
Some manufacturers have been known to inflate their own thread count to ensure they stay at the top of their game as a higher thread count is regarded as a mark of quality and more in demand.
Thread count has also become tied up in clever marketing, and it's certainly not the only thing you should look out for when you next go quilt-cover shopping. Since there's no real way for you to measure thread-count for yourself, our best advice is to take it into consideration but never underestimate the many other elements which help ensure a long lasting and high quality product.
Quilt Cover Material
The material your quilt cover is made of will help determine whether or not you get a good night's sleep, depending on your own personal preference.
The way your duvet cover has been woven will also impact on the way it feels and looks, resulting in extra softness, water resistance or coolness.
These varying qualities should all be considered in line with the climate and type of room you're choosing your new duvet cover for.
Popular materials include:
Cotton is cosy and luxurious, particularly Egyptian cotton, which is considered the best on the market.
Linen is arguably at the higher-end of the duvet cover market – providing a durable and largely fuss-free fabric.
Silk – luxurious, silky and soft, as well as naturally hypoallergenic, a silk duvet cover offers pure indulgence.
Sateen – soft and silky, cotton which has been woven like satin to produce a gloss.
Poly-blend – this fabric is less luxurious, but can be easy to maintain.
Polyester jacquard – great for avoiding creasing and reducing ironing.
Many people favour cotton when selecting a new duvet cover. 100% Egyptian cotton, which combines both durability and comfort, is the premium option. The length of the fibres in Egyptian cotton give the material strength and also help the fabric keep its shape. In addition, it's highly absorbent, so Egyptian cotton also lends itself to colour retention and brightness.
Linen is also a popular choice, primarily in warmer climates, because it helps to keep you nice and cool yet also lasts and lasts.
At the budget end of the market, poly-blend sheets provide an easy-care approach to bedding, with minimal wrinkling and usually a lower price point.
Sateen meanwhile often allows for a luxury look on a budget – while silk offers the real thing.
Size
The size of quilt cover you choose will be determined by the size of the bed, your mattress, and the space it's designed for – as well of course, as your duvet itself.
We stock a range of sizes right up to the largest Super King duvet cover, allowing you to really achieve an opulent look and feel and make the most of all that space.
Design
What use is all this luxury when you don't like the basic design of your bedding set?
We recommend looking closely at the pattern and colour of your selected duvet cover and assessing it against the décor of the room you are buying for. There are a few questions to ask yourself here; will it clash with existing decoration, or will it blend in perfectly? Are you planning to redecorate? Do you want a statement piece, or something more neutral?
Whatever your needs, this is one of the most important considerations and yet one which can easily be overlooked when wading through more technical information.
Top Picks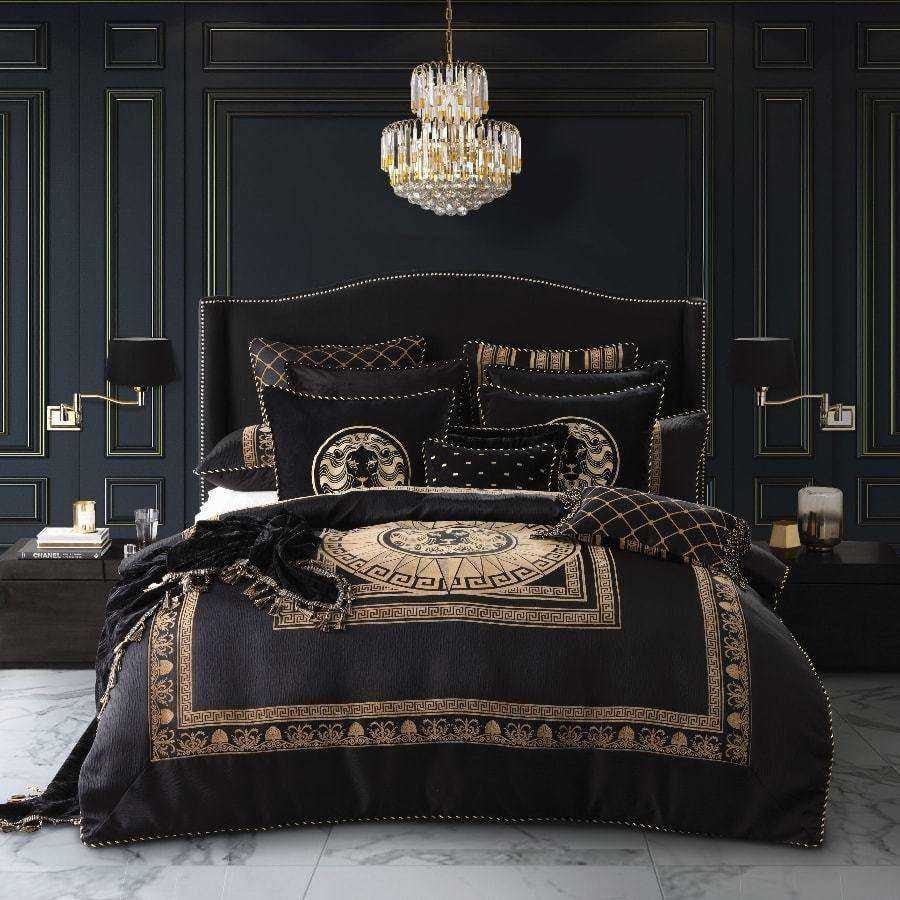 Our range of quilt covers is designed to help both transform your space and complement existing décor, with plenty of fabrics, colours and patterns to chose from, there's sure to be something to impress even the most discerning decorator.
For those hoping to add a splash of colour to neutral rooms, we recommend the Aiden Quilt Cover Set in Teal – this luxurious quilted set includes two matching European pillowcases, and is crafted from cotton blend and microfibre to create a feeling of effortless indulgence.
We stock this product in a variety of sizes including Queen, King and Super King, and others also available in more muted tones such as blush and grey for keeping a monochromatic vibe.
For a more dramatic boudoir, why not consider the Amalfi Black Quilt Cover Set which, like the rest of our range, is available in hard-to-find sizes? It provides an unmistakably European (and unmistakably grand) aesthetic to any room with accents in gold and a range of matching accessories also available to complete the look. The quilt cover is created from a yarn-dyed chenille jacquard with ornate trim.
Or, for a cosier, more feminine aesthetic, we recommend the Isobel Plum Quilt Cover Set, made from a cotton rich polyester percale with a delightful floral print and matching pillowcases.
Final Thoughts
Choosing a new duvet cover comes down to personal preference and the style of your current space. You'll need to decide on a colour or pattern that complements your existing décor of course but it's also important to choose a suitable material. Material choice will come down to budget of course but, the type of room the duvet cover will be placed in will play its part. Rooms that aren't intended for daily use can get away with a cheaper material – for example a spare bedroom.
Thread count too is a crucial factor as this will determine the level of luxury and quality. For those looking to create a five-star hotel space at home, it's wise to invest in the highest thread count you can afford.
At Manchester Collection, we always go above and beyond to ensure our customers achieve the aesthetic and comfort they're looking for. We hope you've found this guide to choosing the perfect quilt cover helpful, whether you're seeking a timeless aesthetic, looking for something more dramatic, or want to keep your colours and fabrics light and airy.
If you can't find what you're looking for, or if you have any queries, don't hesitate to get in touch.
---
Leave a comment