Ultimate Bedroom Style Guide - Top Tips for Creating a Bedroom You Love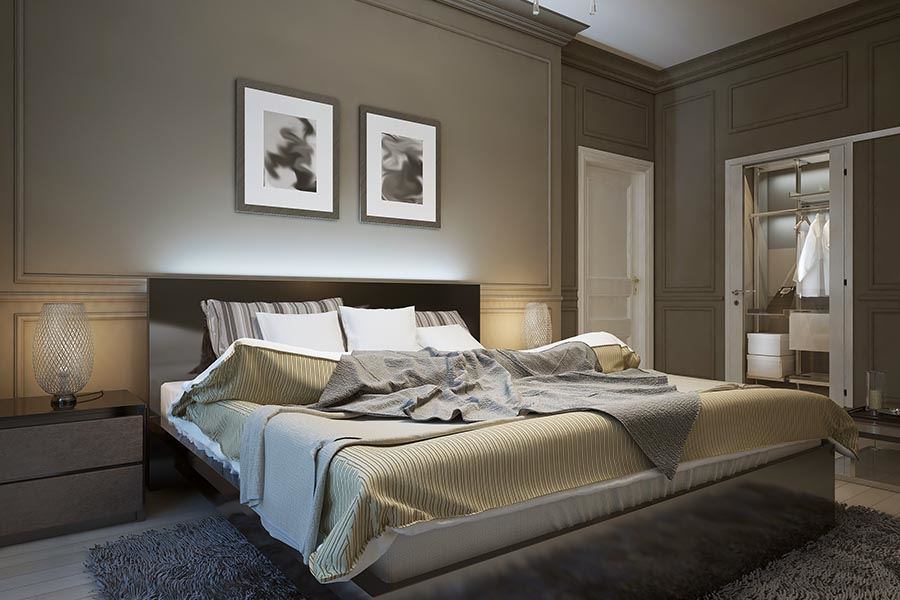 Bedrooms are not simply a place to sleep. They are a cherished oasis. A place for mindfulness, for reading, for self love and care for relaxing, studying and spending time with those we love the most. They are a special space in our home and deserve that extra loving design touch. And the aesthetic of your bed is the pièce de résistance! To help you have a great time in your favourite spot in the house, we've crafted this guide to creating a bedroom you love.
Choose the perfect colour palette
Sometimes, all you need to revamp a room is to repaint its walls and experiment on the decors, linens and furnishings. However, before you run out to purchase the paint for your latest project, here are a few things to consider about your colour choices.
The colour palette you use will set the mood for the room. Hence, it's important to review the do's and don'ts of selecting a winning colour combination:
Focus on the largest pattern in your room and consider integrating that colour scheme into your fabrics, furnishings, walls and decors.
Use darker colours on the floor, medium hues for the walls and lighter shades for the ceiling.
The colour wheel is your friend. Use it to for guidance and inspiration.
Familiarise yourself with the 60-30-10 rule.
Choose a maximum of three colours.
Don't forget to consider the emotions that certain colours can elicit
Don't shy away from using dark hues in small places
A design blessing and cure is of course the trending tastes. Whilst incorporating a timeless feel is an essential component, trends can provide beautiful inspiration and a pulse on what's hot.
Here are some of the trendiest colours for home interiors in 2019
Hazelnut - It's a warm and inviting shade of brown that works perfectly well for bedrooms. This rich and creamy shade can easily brighten up a room.
Soft clay - If you're not a fan of brown and beige, this light, elegant, and zesty colour is a perfect choice.
Mist - This colour is a very subtle shade of blue-green with a lilac and grey undertone. It's a great alternative to traditional bedroom colours like white, beige, and blue.
Pewter - This rich shade of grey can definitely add elegance and unique charm to your bedroom.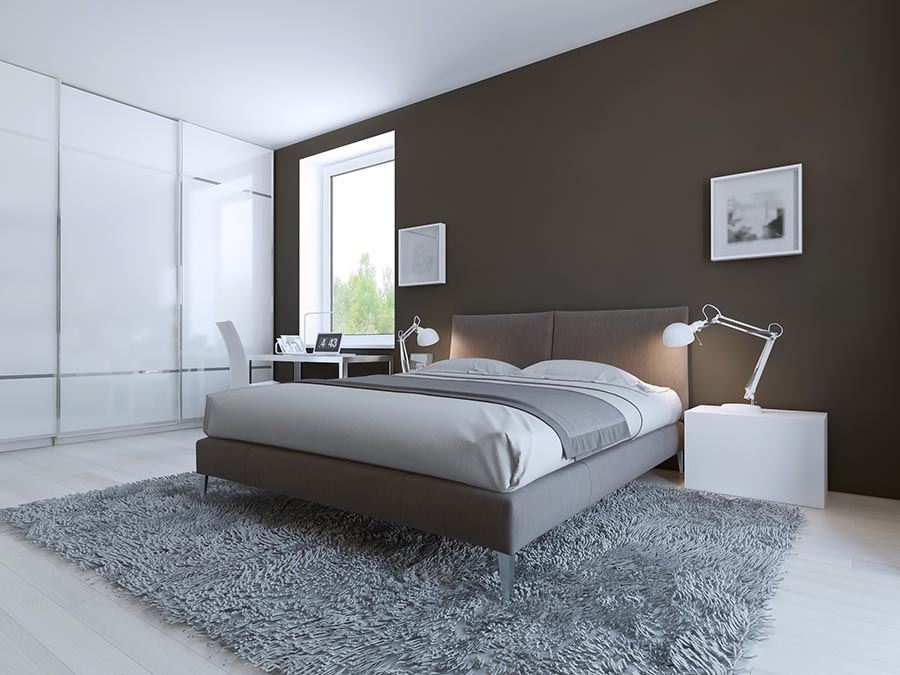 Maximise the available space
Whether your boudoir is large or quaint, a key ingredient in creating a luxurious space to rest and relax is knowing how to maximise the available space.
Here are a few simple and yet effective tips to help you do just that:
Pick the right bed size so you can add in the other components you need and want
Keep the floor decluttered with hanging cabinets for your books, notebooks, and other personal valuables
Utilise the space in your closet with organisers. Be sure to carry your organisation skills into your drawers.
Use the back of your door as an extension of your vertical storage. You can hang a few small items like shoes, shawls, hat and bags.
Furniture placement tips and tricks
Your bedroom furniture will obviously take up the largest space in the room. As such, it's crucial to arrange them in such a way to maintain functionality and flow. Below are some useful furniture placement tips.
Select the location for your bed first because it's the largest piece of furniture in your room.
Balance the space by placing a piece of furniture opposite of your bed like a dresser, chaise lounge or vanity cabinet.
Consider your rooms' feng shui. Focus on airflow, the appropriate lighting fixtures, incorporating the appropriate design elements and placing your furniture in it's optimal place.
To promote encourage relaxation position your bed in the "command position." This means placing it so you can see the entry door when you are lying in bed. (@mindbodygreen)
Tips for Bedroom Bliss
You shouldn't only use design ideas for the bedroom to upgrade the aesthetic appeal of the room. Your bedroom revamp project should also make your bedroom comfier than before. To do that, you may need to change a few things such as your linens, headboards, curtains, and lighting fixtures.
Choosing your Dream Bed Linens
When you shop around for bedroom linens, you need to consider a few things such as the sizing, type of linen and design.
Size and type of linens
Before you shop for a bed linen, you must measure the bed. Is it a queen size bed? A Califonia king? Are you buying linens for your kid's double bed?
Also, you need to consider what type of linen do you want to use. Always keep every layer fresh from bottom to top. Do you need a mattress protectors? Are your linens appropriate for your allergies or sensitivities?
When you select mattress linens, you should always consider the season and climate. This way you can select linens or blankets with the proper texture and thickness that will provide you with optimal comfort when you snooze.
Don't forget about the pillows. Your pillow covers might need replacing too. Choose pillowcases that complement the colour of your bed sheets. It's always recommended to get a matching bedroom sheet set. Having a matching set will bring any bedroom together and when it comes time to store them away, simply wash and fold all the sheet and then slide them inside one of the pillow cases for an easy to find and choose bundle.
If you're sensitive to dust and other contaminants, you might need to use pillow protectors. They will promote a healthier and comfier sleep by protecting from moisture, dust and mites.
To keep your bed looking and feeling clean, fresh and aesthetically pleasing all year round, it's recommended to have at least three bedroom linen sets for each bed you're dressing. If you have kids, you might need more.
Bedroom Linen Design
What type of linen design do you prefer? Do you like solid colours or patterns on your bed linens?
If your bedroom colour uses a monochromatic palette, it's wise to use linens with solid colours too. Don't be afraid to make a statement bold and solid colours. These are very simple and you can easily match them with the overall design of your bedroom.
To accentuate colour in the room, try a patterned linen. With a patterned bed linen, you can turn your bed into a beautiful focal point. With so many patterns to choose from, it can be a brilliant opportunity to showcase your unique taste, Remember: eccentricity is cool, so don't be afraid to be inventive.
Dynamic Lighting Fixtures
Nowadays, bedroom improvement projects also involve choosing the appropriate type of lighting products. This is because adding light fixtures can drastically affect the ambience in your bedroom. It adds drama, charm and functionality to your bedroom.
Types of bedroom lighting fixtures
There are so many lighting options to choose from depending on your style preference, functional ambitions, and personal hobbies. For example, to minimise the clutter and create an illusion that your walls are bigger, use a frosted glass lamp.
Older homes will typically be limited with the wiring options available and it should go without saying that it's never a good idea to undertake electrical jobs without a trained professional. So, if you aim to add ambiance but are limiting in within the wall or ceiling options - add bedside or floor lamps!
If you find yourself glued to your screen as the evening rolls in (don't worry we've all been there!) you may have noticed the impact that it has on your sleep and concentration. Adding a flux feature to your electronics or installing circadian lights can dramatically help improve your eye and parasympathetic health.
These specialised bulbs that change colour depending on the time of the day and/or the task at hand. They can be controlled from your phone or computer, set to timers and have a whole slew of very cool features and effects.
With so many lighting options to choose from its best to take into consideration your bedroom aesthetic and space and compare that to the available design options:
Wall mounted lights
Art deco lighting
Built-in lamps
Ceiling lamps
It's all in the details
Even the tiniest details can affect the overall bedroom design. Aside from your bed, linens and lighting fixtures, you also need to consider your bedroom decor and window dressing.
Customising your bedroom decor
Bedroom decors come in all shapes and sizes. When you select pieces of decors for your bedroom, focus on pieces that can add more personality to the room.
For example, you can add:
Scented Candles

You can use them to relax after a long day or to deodorise the room after a few weeks.

Throws and cushions

These stylish bedroom add-ons can make your room cozier than it already is.

Mirrors

It's the perfect addition to a small room.

Clocks

You definitely want to keep track of time even when you're in a place of relaxation.

Accessory (jewellery, perfume) trays, bowls

These are perfect for ladies who want to have an accessible place for their go-to accessories and Eau de parfum.

Art and decor

Paintings, atlas - What better way to add personality to your room than hanging a painting on the wall?

Wonderful Window Dressings
Added attention to your window dressings will go a long way in creating a beautiful bedroom you love. Here are a few tips when it comes time to selecting the ideal curtain types or style to use for your bedroom:
Decide how much light you want to filter out. This will help you decide what type of curtain to choose for your bedroom window. Need a pitch black room for your slumber? Consider blackout curtains. If you'd rather wake up with the sun linens and sheers will offer privacy and yet still let those rays in to awaken you.
Measure the height and width of the window. When you obtain the measurements, be sure to take into account the curtain rod or rings. If you want a draping curtain, the width should be three times wider than that of your window.
Choose a colour and design that meshes well with your bedroom interior. If you're gearing towards a monochromatic look, pick a solid colour. But, if you want a more playful vibe, you can go for striking patterns that compliment the colour scheme used in the room.
Final Thoughts
The effort is so worth it when it comes time to create a bedroom you love. Creating your oasis does not require a total overhaul. Rather, you need only perform a few powerful projects to transform your space into somewhere sacred for your soul. Choose your perfect colour palette, utilise the space for maximum functionality, and make comfort your top priority.
Do so and at the end of the day, you'll have a dream retreat, a space where you can forget about your worries from work, school and the encumbersome events of your personal affairs.
For an endless array of inspiration and for incredible pricing shop our stunning range of sale items and our gorgeous selection of bedroom and home essentials.
---
Leave a comment