7 Best Warm Quilt Covers for Winter
Author: Manchester Collection Date Posted:1 July 2022
Interested in winter quilt covers? Find out what are our top choices to keep you warm during the cold weather.
When winter rolls around and it's time to go to bed, we all just want to crawl into a cosy and inviting bed. And for those colder months, it's very important to choose the right bedding that will keep you warm and comfortable.
This is why the perfect quilt covers are a necessity during winter. It is designed to keep you warm and allow you to drift off into sleep without a single worry. If you've never bought a winter quilt before, you need a quilt cover buying guide. But you should also consider the list of quilt covers we've compiled below.
For those who are after both comfort and luxury and want a quilt cover set that will be fashionable while functional, the Jax Chunky Waffle Shadow Quilt Cover Set is an ideal choice. The green design is minimalistic and clean which allows you to create a subtle style for your bedroom sanctuary.
The fabric of the quilt cover set is 100% cotton with a poly-cotton backing which means it is soft and provides warmth while also being an extremely breathable fabric. It is a bit heavier than most other quilt covers, but that is another reason why it's ideal for the winter months.
Since the design and colouring are very subtle, you can easily pair it with other neutral colours and choose the aesthetic you want for your bedroom.
Is there anything that screams "luxury" more than black quilt covers? For this cover set, the designers went with a Greek Key style and added a rope cord edge finish to create a beautiful and luxurious look that still manages to be inviting. The black and gold combination used here is especially striking.
The reverse of this cover set is made out of a cotton blend, which is bound to make you feel warm and the front of it is polyester. While polyester is a more delicate fabric and shouldn't be sat on directly, those who want a nice style without sacrificing their warmth usually go for a polyester front.
If you want to add a pop of colour to your bed, you can decorate it with blankets and throw cushions of any colour you like. After all, black looks great with everything.
A green quilt cover set is ideal for winter because it is a muted colour but doesn't invite feelings of melancholy. The Daphne Green Quilt Cover set is very minimalistic and has a very subtle pattern, which makes this set perfect for those who want to create a subtle yet inviting environment.
The back of the quilt cover set is made out of a cotton blend, which will keep you warm and cosy while the front is made out of texture polyester. It's very easy to style this set with other muted colours, or you can purchase matching decorative cushions to keep the green aesthetic alive.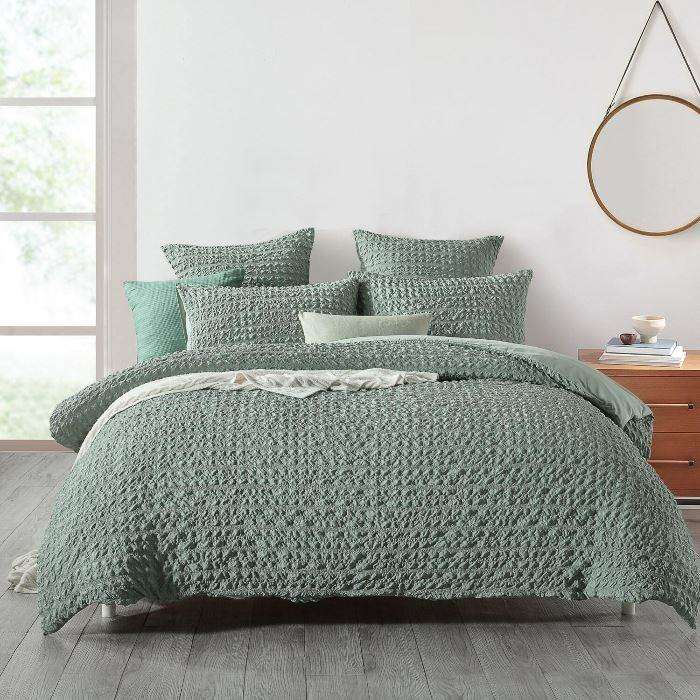 Keeping up with the green aesthetics, the Empress Slate Green Quilt Cover Set is perfect for people who prefer more muted colours but still want a slightly bolder pattern. The pattern itself isn't too outrageous and still works well for minimalists who just want a splash of uniqueness.
The backing of the cover set is made out of a cotton blend, which will provide you with comfort and warmth while you doze off during those cold winter months. And the front is made out of polyester, making the set the perfect combination of style and comfort.
Made in the colour Goblin Blue, the Bourke Quilt Cover Set manages to create a warm and inviting environment out of any bed. Both the front and reverse are made out of 100% cotton, so you can be sure this quilt cover set will be just what you need.
The quilt cover set itself is not only made out of beautiful colours and materials, but it also has an interesting circular pattern. It will appeal to both minimalists and bolder people who want a cover set that has an extra interesting feature.
6. Bronx Quilted Quilt Cover
This particular quilt cover set screams "royalty" due to its beautiful grey colour and bold pattern. It's ideal for anyone who wants to add luxury and perhaps some muted tones to an otherwise colourful setting.
The construction of the quilt cover set is a cotton blend, so you won't have to worry about whether it's going to keep you warm through the night. When you sink into your bed after a long day and are greeted with this cover set, you will be able to leave all your worries behind.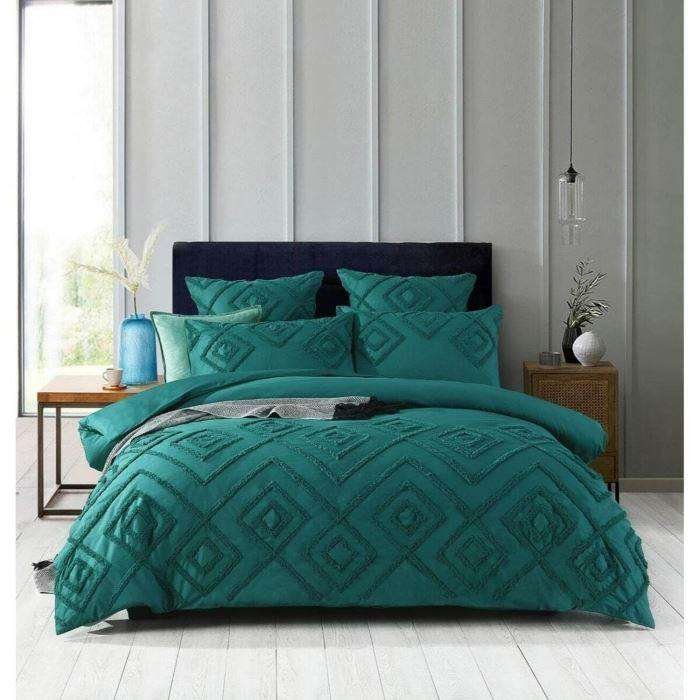 Finally, those who want something bolder that will add a pop of colour to their bedroom should go with the Blume Teal Quilt Cover Set. The colour of the cover set is deep teal and it comes with a diamond pattern that is hard to ignore and easy to fall in love with.
Both the front and reverse of this cover set are made out of a cotton blend, which is ideal for winter as we've already seen in previous sets.
Summary
Winter is the time of year when everyone just wants to hibernate. While summer is great for activities and soaking up the sun when the outside world is cold and uninviting, it's completely normal to want to stay in bed as much and as long as possible.
But without an inviting bed to climb into, winter can be even worse than it already is. So treat yourself with a set that will transform your quilt covers. Not only will it provide you with style, but it will also give you warmth and comfort.
---
Leave a comment