What Is a Quilted Quilt Cover
Author: Manchester Collection Date Posted:22 July 2022
So what are quilted quilt covers? Why do they provide a comfortable sleep? Discover their texture and style, which you wouldn't get from other quilt covers.
A good night's sleep is essential. Without quality rest, you wouldn't have enough energy throughout the day and feel motivated to take on your responsibilities. Good sleep is important for your health and one of the factors that will determine how well you sleep is how comfortable you feel in your bed.
While most people believe that the only thing you need for a comfortable and relaxing night's sleep is the right bed, that's far from the truth. You also need a great mattress and the perfect quilt cover.
There are seemingly countless choices when it comes to quilt covers, but not all of these covers were made equal. So when choosing the perfect cover, you should choose the best of the best and get a quilted quilt cover.
These covers are breathable, they keep you comfortable all year round, and they're even great for sensitive skin. If you don't know much about quilted quilt covers, you've come to the right place.
So what are quilted quilt covers?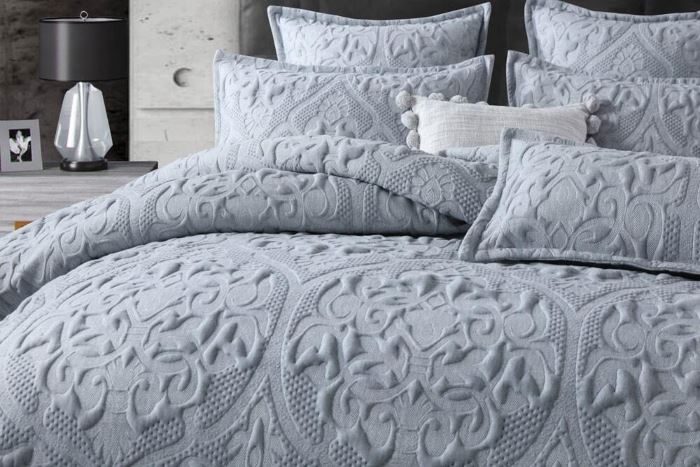 Quilted quilt covers get their name from the cotton weave from which they're made and the distinctive pattern you can find inside of the actual quilt. The pattern is reminiscent of a classic quilt design.
The covers provide you with the texture and style you wouldn't get from other quilt covers. During the night, a quilted quilt cover will provide you with a luxurious and comfortable sleep. So basically, these covers are a combination of style and functionality you can't say no to.
What makes quilted quilt covers different?
You might be asking yourself Why should I get a quilted quilt cover and not a simple quilt cover? So many people are opting for these quilt covers because they're different from any type of bedding you've ever had before thanks to the following features.
Made from breathable cotton
The cotton fabric used to make quilted quilt covers is very breathable and naturally absorbent. Since the surface of the cotton weave is raised, the airflow is increased significantly when compared to regular quilt covers.
Additionally, they are much larger, which also means they're more absorbent. Thanks to that feature, you can rest assured that you'll stay comfortable and dry even during the hottest summer months.
And since these covers are thick, you can use the cover as a blanket if you want.
They have a textured style
Your bedroom should be your oasis and adding some style to it can help you feel better. But sometimes you don't need an interior decorator to spruce up your bedroom. All you need is a beautiful quilted quilt cover that will make the entire room pop thanks to its textured style.
There are so many beautiful covers to choose from. No matter what your personal style is, you are bound to find something that fits your personal aesthetics. The perfect quilted quilt cover is just the accessory your bedroom has been missing.
Very low maintenance
A lot of people are reluctant about getting a quilt cover because they don't want to deal with the maintenance that comes with owning one. But luckily, this problem doesn't exist with quilted quilt covers as they're made to be extremely low maintenance.
All you need to do is wash them regularly in your washing machine and let them air dry in the shade. There's nothing else you need to do. There's even no need to iron them. Due to their textured style, it's nearly impossible to notice any creases or wrinkles.
How to choose a quilted quilt cover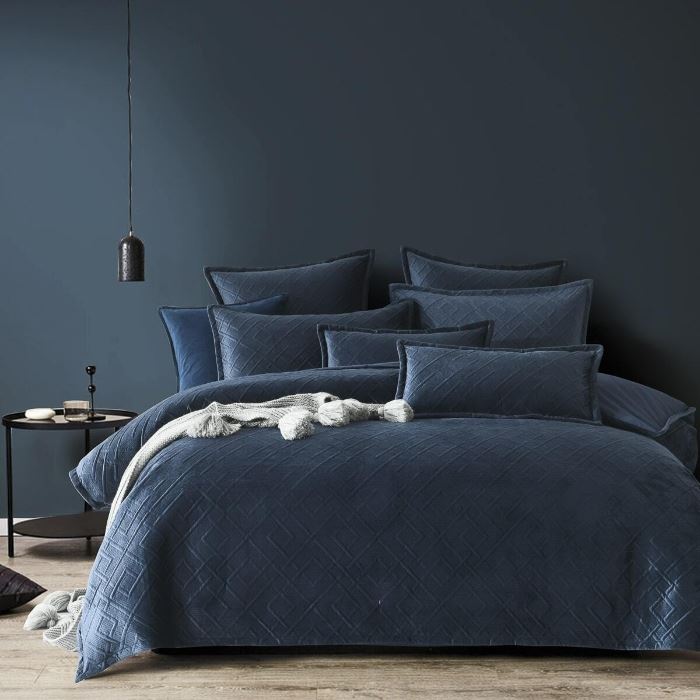 Now that you've seen everything a quilted quilt cover has to offer, you're probably eager to get one for yourself. But before you do, you need to know how to choose the perfect one for your bed. Even though there are many luxurious quilt covers, not all of them would fit every bed and bedroom.
When making your selection, the first thing you need to look at is the size of your quilt to determine how big your cover needs to be. While you can return the quilt cover, it's best to get it right on the first try.
The second thing you need to think about is the style you want. There are so many different styles you can choose from, so make sure you find the one that is perfect for your bedroom and fits your personality.
5 quilted quilt covers to decorate your bed
If you're ready to freshen up your bedroom's look and give yourself the type of comfort you've never experienced before, it's time to treat yourself to a quilted quilt cover. It's time to release your personal style and choose the cover that best fits your aesthetic.
Manchester Collection offers an extensive range of quilted quilt covers that are bound to impress everyone, regardless of what you're looking for. And if you don't want to settle for just a cover, treat yourself to an entire set that includes pillowcases and enjoy the complete look your preferred set will provide you with.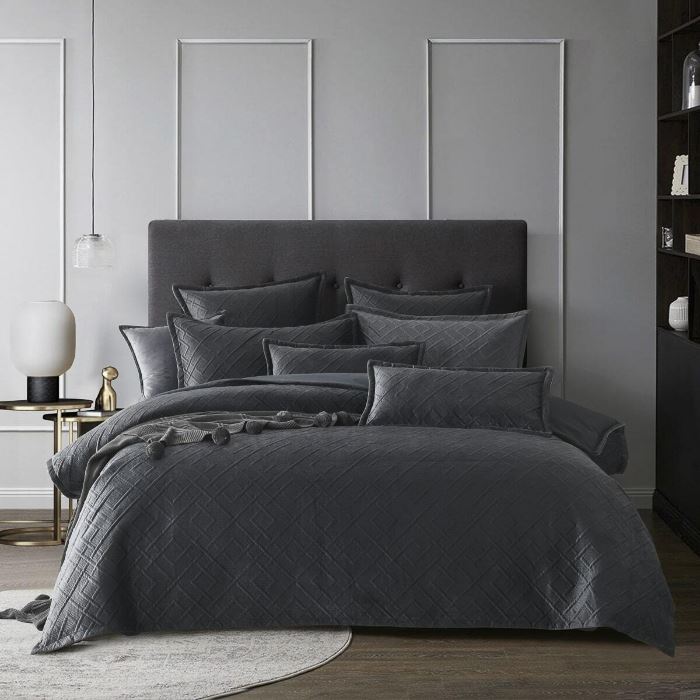 Let's start off with a beautiful set that will leave everyone who enjoys darker tones breathless. The Kolt Quilt Cover Set Charcoal comes in a beautiful colour that will fit amazingly well into any bedroom, adding a touch of class and even a little bit of mystery.
Charcoal is generally considered to be a winter colour, but if it fits your aesthetic, you can proudly display it all year long.
The front of the cover is made out of a quilted velvet fabric that feels luxurious and modern while the reverse is a cotton/blend backing. You can be sure this cover set will keep you cool during the summer, warm during the winter, and comfortable year-round.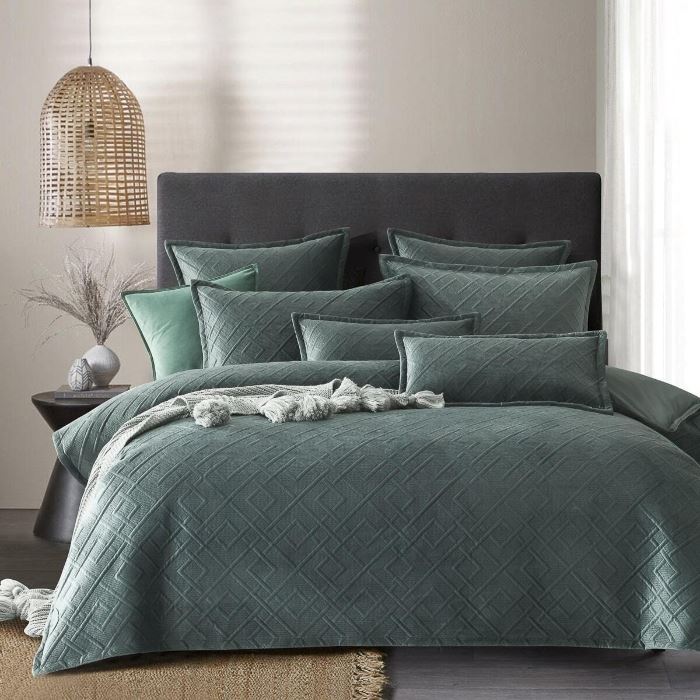 For those who like earthy tones that are still on the darker side but not as much as charcoal, the Kolt Quilt Cover Set Forest Green is a true find. If you're a person who loves nature, has plants in their bedroom, or both, this set will delight you.
It will give your bedroom a modern look, make your bed look inviting, and feel like you're covering yourself with clouds.
As for the fabric, it is the same as the previous model with the front made out of quilted velvet and the reverse out of a cotton/blend backing.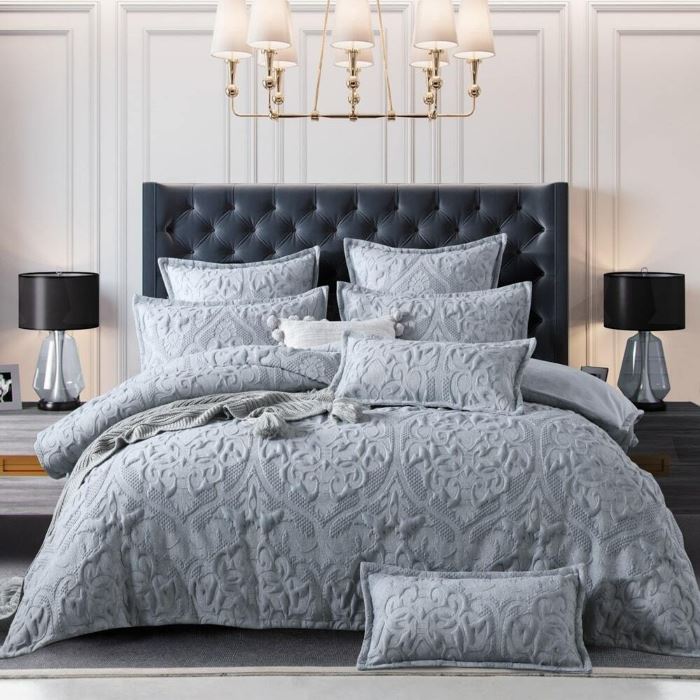 If darker tones aren't your cup of tea, don't worry because there are a lot of beautiful brighter sets to choose from. One of them is the Amari Grey Quilt Cover Set. If you're a fan of contemporary style, you will fall in love with this beautiful quilt cover set that has a simple colour but bold patterns.
The cover is incredibly soft but also delicate since the front is made out of polyester. When dealing with fabrics made out of polyester, it's best not to sit directly on the cover as the material is very delicate. The reverse is a cotton/polyester blend that will provide you with the comfort you deserve.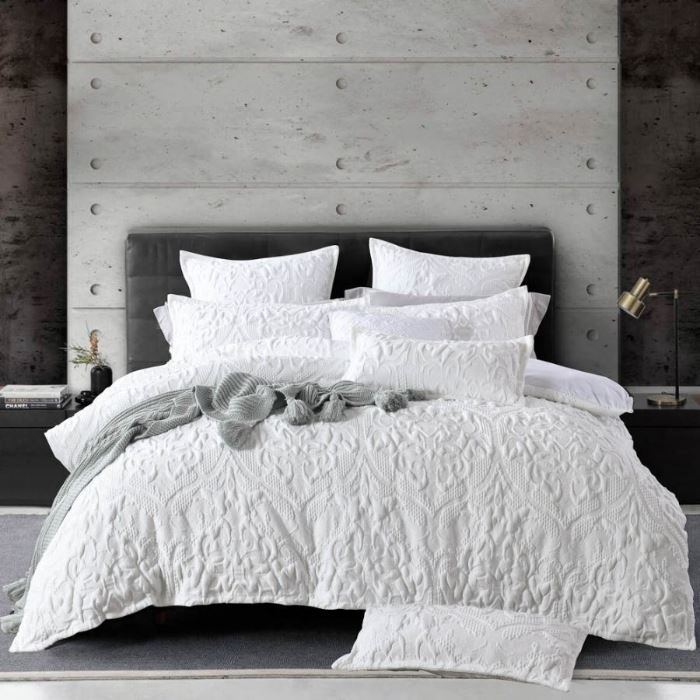 Another beautiful set for those who prefer lighter colours, the Amari White Quilt Cover Set is perfect for lovers of antiques due to its impeccable white shade. The pattern is gorgeous and was inspired by art deco. But thanks to its simple colour, it leaves you with the option to pair it with cushions and throws of all colours.
The front is made out of polyester and the reverse is a cotton/polyester blend.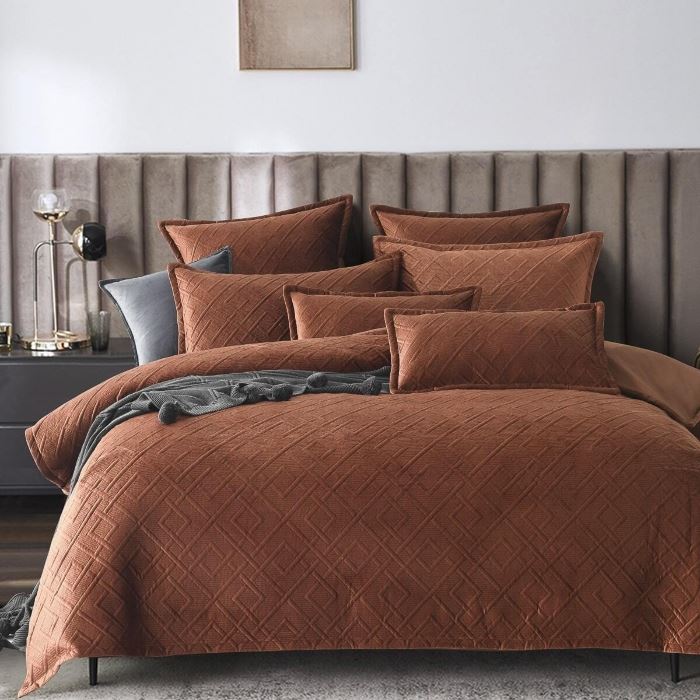 Finally, let's take a look at this gorgeous brick-coloured set that is ideal for those who like something a little bit different and unconventional. It goes well with muted tones and if you're looking to add a splash of colour to your bedroom without it being too assertive, you can't go wrong with this set.
The front of the cover is made out of a quilted velvet fabric while the reverse is a cotton/blend backing.
Conclusion
Your bed isn't just a piece of furniture where you spend your nights or an occasional afternoon nap. It's a place where you should feel comfortable, secure, and without a care in the world. So if you want to transform your bed into just that, you need the perfect quilt cover.
Once you try a quilted quilt cover, you will wonder how you ever lived without one. So, choose the best design and fabric combination for your needs, give your bed a well-deserved makeover, and get ready for a good night's sleep.
---
Leave a comment