Modern Interior Design Style - Top Tip For Achieving the Modern Look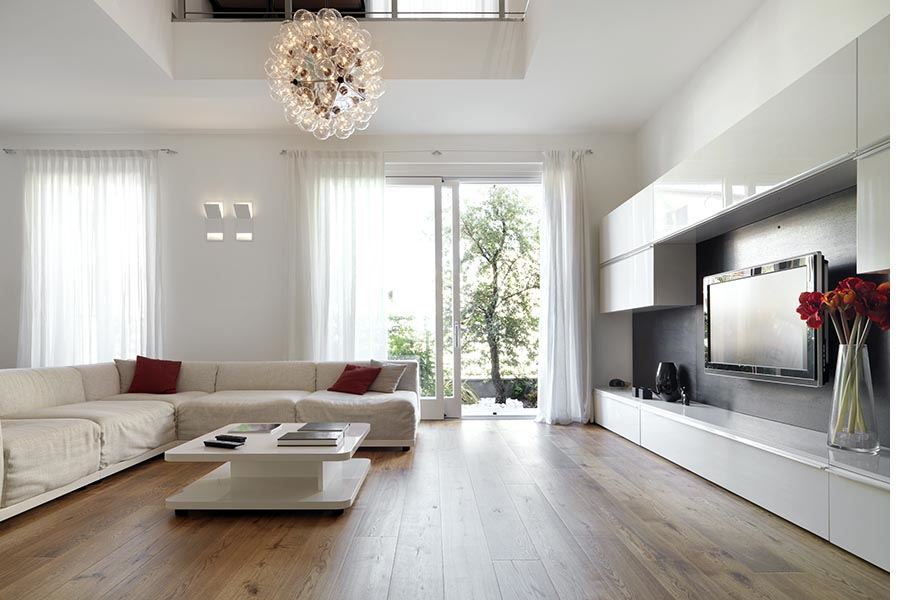 If you want to welcome your home into the 21st century, there's no better way to do it than to embrace the modern design.
It's beautiful, practical and has a very calming effect on the mind. Many people think that modern design has to be sterile and very simple, but that's not entirely true.
It can be made very warm, welcoming and stylish and can fit perfectly into any home.
But how can you achieve it in your own house? Here's a little guide that will familiarize you with the modern design, its elements and the perfect ways to pull it off.
What is modern design?
Don't confuse the terms "modern" and "contemporary".
Even though they are often used as synonyms when referring to various things, there's a world of difference between modern and contemporary design.
Simply said, the modern design is the reflection of the modern art movement that found its way into our homes. It embraces the use of natural materials, natural and earthy colours and stays away from clutter and unnecessary details.
While contemporary style comes in a wide variety of bold colours, modern design usually includes a monochromatic colour palette (think white-washed rooms for example) with some pops of colour.
History of modernism
Modern design is not all about the "now". It actually refers to an era of the past, so it's very important to get to know its history. The most popular modern design era belongs to the 1950s and 1960s.
However, the Art Deco design and the vintage look of the 70s also can also belong to the modernist design.
All in all, modernism started its path once people began to reject overly ornate design styles like Gothic, Renaissance and Victorian.
Why choose this look?
In the modern design movement, the form should always follow function. This means that all the things that are incorporated into the space have to have a clear purpose, practical or aesthetic.
Otherwise, they can be eliminated from the interior. This makes the modern look a perfect style for all people who love clean, uncluttered and simple spaces with clean lines yet a comfortable vibe.
Top tips for achieving the modern look
There are various ways to achieve this look in your space, but pulling it off can be a bit tricky if you don't know where to start. However, if you follow the tips below, you'll create a coherent and beautiful modern home.
Create an open plan
Traditional homes usually have a very compartmentalized look. They have rooms that are distinctly separate from each other—the kitchen, dining room and living room are always boxed off.
However, modern houses tend to follow an open floor plan where different spaces flow into one another.
For instance, the living room, kitchen and dining area are open and connected with each other which allows plenty of natural light and creates a very airy and comfortable feeling. It also gives you much more space for spending time with your family or entertaining since restrictive walls are scarce.
Of course, spaces you want to connect have to be next to each other, otherwise, you'll need to shuffle your layout a bit.
Hiring an experienced interior designer can be of great help here since they can help you come up with a practical design that will benefit from openness.
Sometimes, you'll need to add supporting beams to carry the load of the open area, but this construction move is worth all the effort.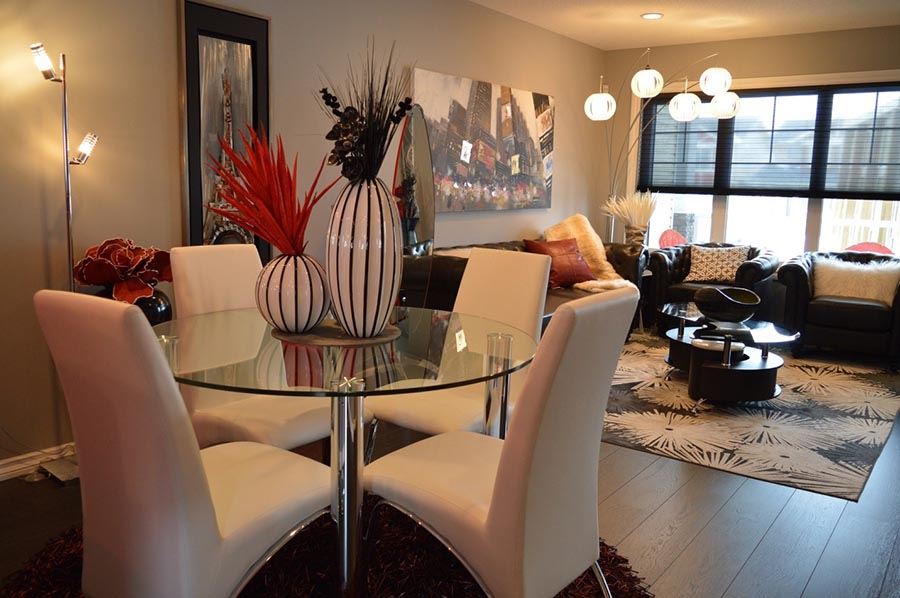 Consider your windows
The second important difference between traditional and modern design is the windows. Usually, older homes have small windows made to let just enough light in and provide ample privacy.
However, modern design prefers large windows that often include entire glass walls. They allow the people living inside to connect to the outdoors, which is another important characteristic of the modern design.
Large expanses of glass welcome a lot of natural light inside and provide beautiful views to the outdoors. If you want to replicate that look at your home, you can either enlarge your window sizes or even opt for floor-to-ceiling windows.
Today, many manufacturers offer larger window sizes, so you don't even have to go custom.
Simplify your architecture
Most traditional homes aren't exactly overly complicated, but they do contain various architectural elements that make them look and feel "traditional".
For instance, think about traditional windows. They are often constructed from multiple pieces of wood.
Similarly, traditional decks contain picket posts and railings and traditional staircases have intricate balusters and handrails. However, modern design follows clean lines and encourages minimal decoration.
No complicated trims, no intricate ceiling details, no reliefs. If you wish to include trims, opt for something very basic and modest.
Have a place for everything
Having a clean and uncluttered environment is a big part of a modern house. Thoughtful consideration should be put into storage and display of items, especially decorative items.
Luckily, there are so many amazing storage solutions that will help you achieve this clean look.
You can look into built-in cases, shelves and cabinets and invest in modern furniture with hidden storage systems. However, make sure your storage solutions fit the look of your modern home.
Concentrate on including storage with clean lines and simple and subtle details. Your safest bet is simple open shelves and cabinets with flat and full-faced fronts. On the other hand, stay clear from different trims and recessed panels.
Opt for streamlined materials
Modern homes often include materials that are streamlined and consistent and don't distract from the coherent feel and look of the space. No matter the material you choose, you can always find beautiful simplicity in its texture and detail.
For instance, you can still incorporate your favourite materials like tiles, wood and metal, just opt for larger formats. Think big tiles with less grouting and wide planks of wood with fewer gaps.
You might also want to choose wood without knots and tiles without elaborate designs on them. Busy surfaces such as floral wallpapers, small metro tiles, slender wood planks and layered carpets are not usually found in modern interiors.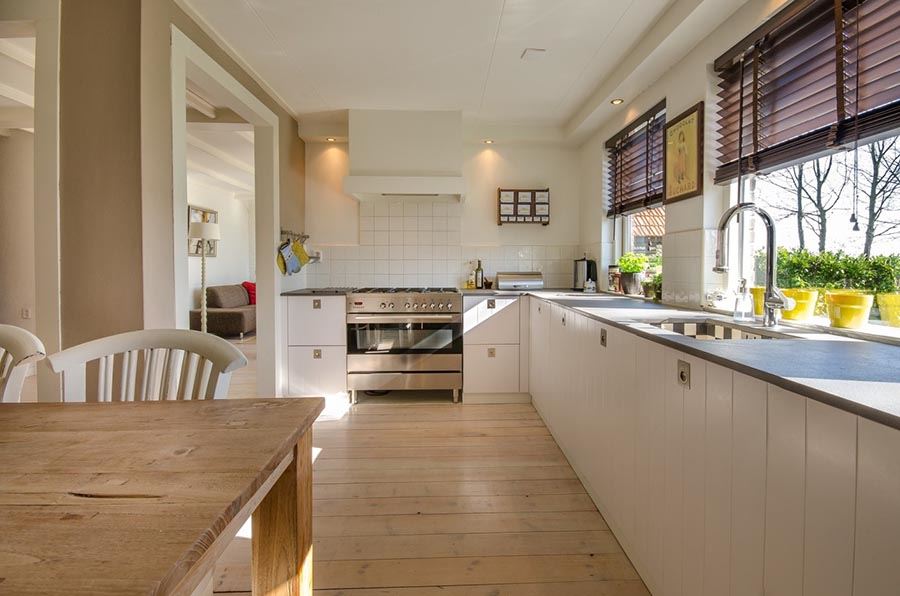 Choose neutral colours
Your aim should be to create an interior that is light and airy. This is best achieved with big windows and open space layout, but your colour palette can also help.
The typical modern homes have a very light, natural palette with a few accents. You can also let your large windows and natural views add to your colour scheme.
You might remember that traditional homes also often feature light and natural colours, but they are usually creams and light browns. So, you might want to stick to other natural hues for your interior.
Introduce the right seating
Modern furniture is comfortable, but it's also simple and not overly textured. Fluffy pillows and super soft seating isn't going to fit your aesthetics and philosophy.
However, low, horizontal seating make with simple materials will feel right at home at your modern interior.
Don't be too matchy-matchy
Creating a cohesive look is your key, but that doesn't mean you can fill your space with sets you usually see at stores. This way of furnishing is considered traditional and quite outdated.
This so-called matchy-matchy look will make your space look impersonal and "flat". So, instead of getting matching sofas, armchairs and rugs, opt for pieces that are different yet complementary.
Even introducing elements from other design styles isn't too weird as long as they don't compete with the overall modern look.
So, feel free to mix materials and textures. Combining different finishes will create an interesting and dynamic design that still matches the modern philosophy of cleanliness and simplicity.
Be careful with appliances
Appliances and fixtures play a very important role in the home design, so it's time to take a look in that direction.
Since modern homes follow a very clean and simple aesthetics, your traditional light fixtures, appliances and other furnishings won't fit your new look. Modern products have clean lines, they are simple, sleek and not excessive.
One other thing that's worth mentioning here is the placement of your items. Everything should be located with great intention.
For instance, try to align your appliances and fixtures with architectural elements. Arrange your lighting evenly on the ceiling and wall, centre your bathroom fixtures on tiles or tile joints and align cabinetry in the kitchen.
It might seem like a small and unimportant detail, but the location makes a world of difference.
Add modern technology
Another must-have element of a modern home is certainly the technology. But, that doesn't mean you can fill your house with all sorts of gadgets and call it modern design.
Every piece of technology should work with the space and be streamlined and minimalist. Think flat screen TVs, built-in DVD players, modern smart thermostats and stylish air purifiers. Make sure they are tied into a room instead simply placed in it.
Designing a modern home doesn't have to be complicated, especially now that you know where to start from and what to keep an eye on.
Once you're finished with your design stage, you'll have a gorgeous and fuss-free space suitable for all your family members.
To find out more about other design-styles to choose from, view our Ultimate Design Style Guide.
---
Leave a comment