Getting the Luxury Hotel Look at Home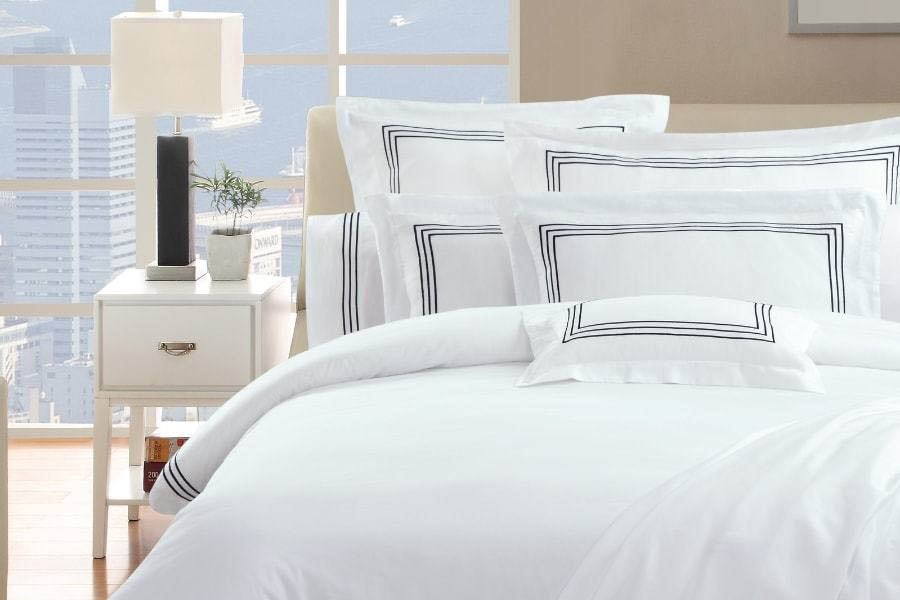 We all love our holidays; we all love that hotel luxury we experience when we are away from home. From the decor down to the bedding, there's just something about luxury hotels that makes us feel comforted and spoiled.
But why wait until you're out on holidays to get that luxury hotel look?
Try incorporating that luxury hotel feeling at home and experience waking up every morning in your very own BnB. We've put together this simple guide to give you tips and suggestions for getting the luxury hotel look at home.
Luxury Bedding
Nothing beats the feeling of high thread-count sheeting when curling into bed at night. It's a quintessential part of the luxury hotel experience. It's also easy to recreate at home. You're spoiled for choice when it comes to high-quality sheeting, but here are our three top picks to get you started:
1200 Thread Count Sheets – White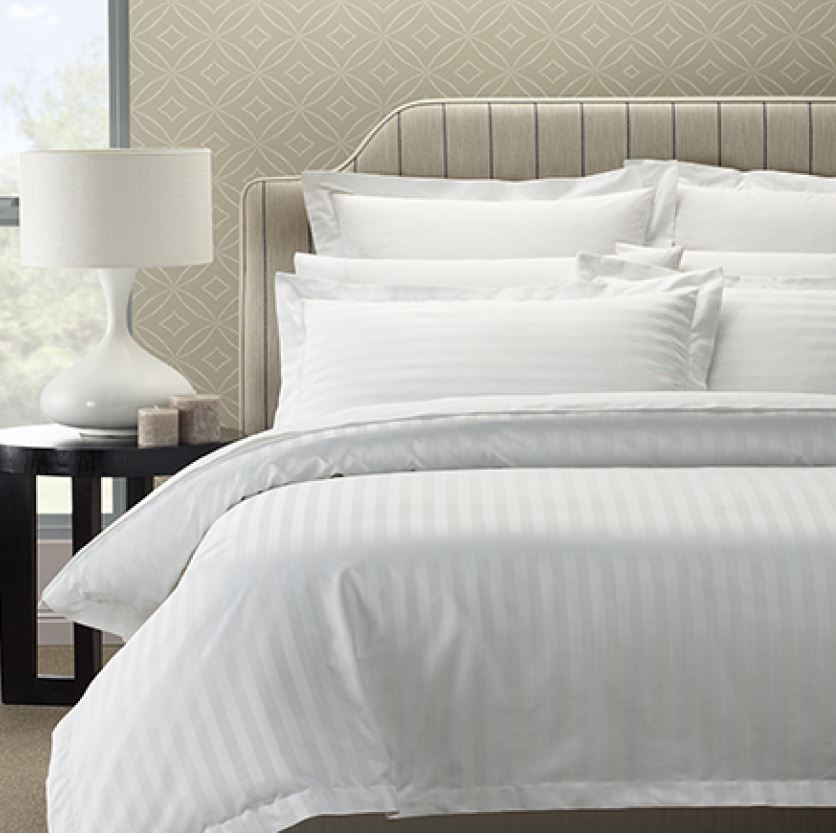 Achieve the ultimate look that's typically reserved for five-star hotels and complexes. A subtle stripe sheeting offers classic sophistication to your bedroom.
You can easily alternate the look of your room by switching out to different bold colours. Keep a variety of colours on-hand to periodically revamp your space with ease.
Looking for Luxury Hotel Bed Sheets
1000 Thread Count – White with Black Embroidery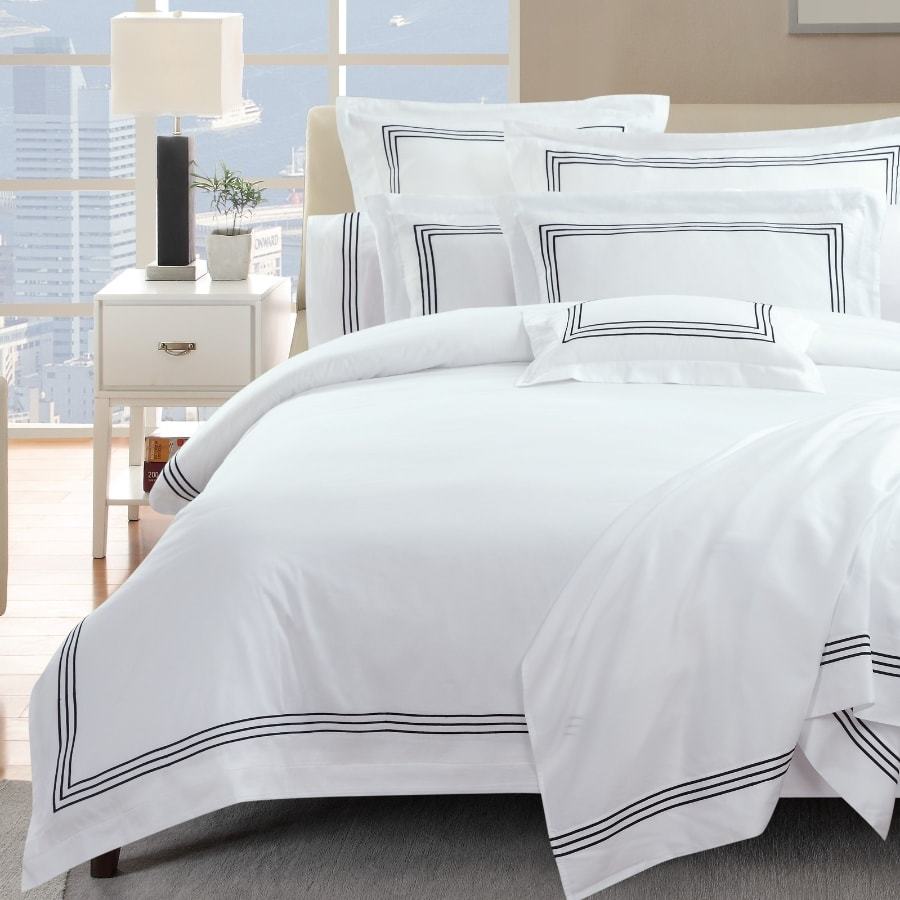 Nothing says class like our hoteluxe 1000 Thread Count sheeting. It offers simple, stylish monochrome sophistication, developing using long staple 100% cotton. The sheer softness and strength contrasts well with the bold, black embroidery.
Check out our hotel bedding
Luxury Down Doona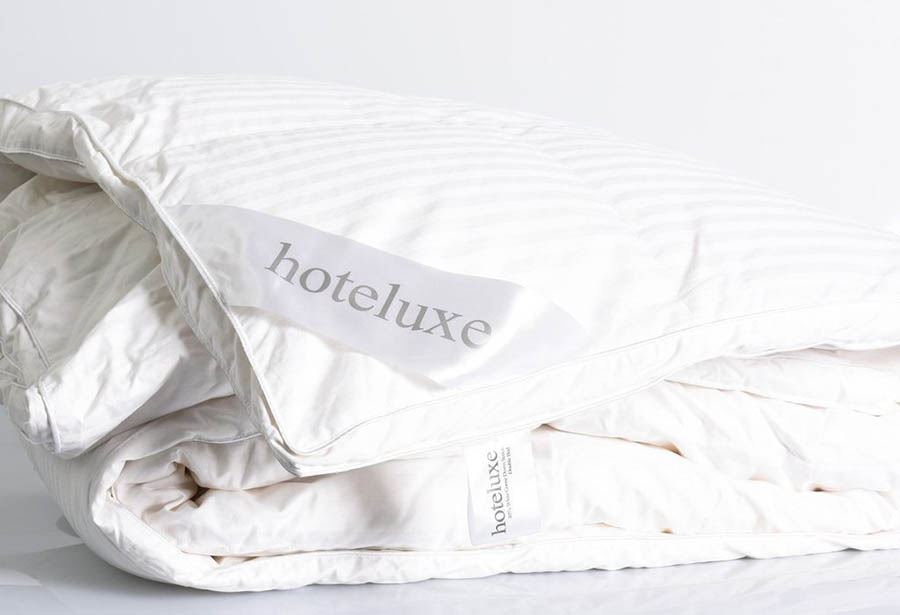 It's not just the bedsheets that contribute to that luxury sleeping experience. There's nothing quite as comforting as the feeling of cuddling up with a luxurious lofty hotel down quilt. You can achieve that same comfort with our 85% White Duck Down for all year-round warmth.
The luxury duck down doona provides great loftiness with added flexibility. Its medium warmth rating makes it much more suitable for unstable climates in southern Australia. Top the doona with a luxury cotton blanket for the extra warmth in those cooler months.
Why not buy yourself a hotel like quilt
Luxury Pillows
Ultimately, sheets and doonas are only half the story when it comes to a luxurious sleep. The final aspect has to be the pillows we lay our weary heads on.
For the ultimate in sleep comfort, you cannot go past Sleep Vale's duck down pillows. They provide an unparalleled level of support and comfort to guide you to your sleep.
Superior Xtra Filled Microfibre Pillows also offer excellent results for the budget-conscious homeowner.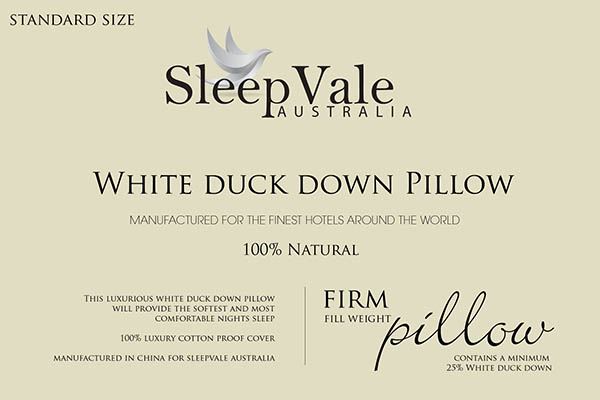 Luxury Home Decor
Of course, hotels aren't all about the bedroom. From the moment you walk through the front door, every part of the interior should feel imbued with a certain style and sophistications. There's never a shortage of home decor to choose from, but we'll start you off with our top picks.
Bathroom Accessories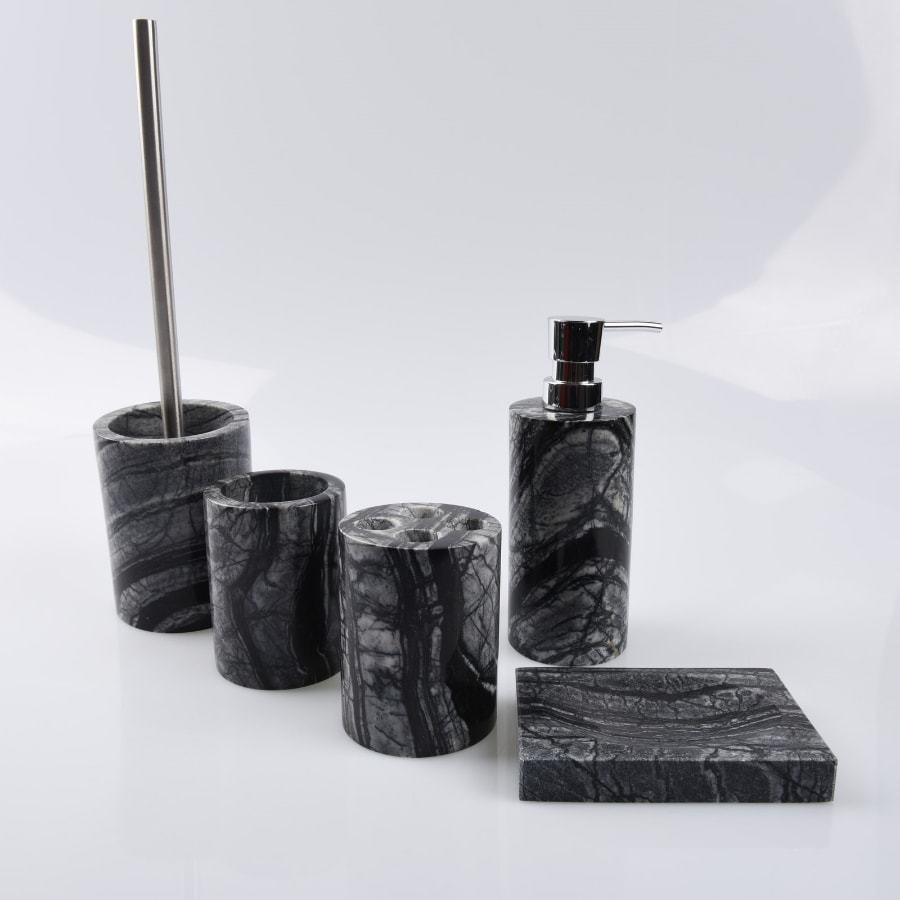 A soap dish, lotion dispenser, toothbrush holder, tumbler, and toilet brush holder might not seem like important considerations when trying to create a luxury hotel experience. But think back to every luxury hotel you've had the pleasure to stay in — everything down to the bathroom accessories carried a sense of class and sophistication.
The Hoteluxe Carter range of bathroom accessories is a quick way to add a simple, modern aesthetic to your bathroom. Soft cream colours with silver highlights will compliment any bathroom styling.
For something a bit bolder, try the Hoteluxe black marble design to contrast against brighter basins and countertops.
Cushions
Simple square cushions are perfect for both the bedroom and living room. Soft black velvet adorned with decorations in the shape of a bow add a touch of colour and vitality to any setting.
Alternate or complement the black velvet with our Antonie Natural Cushion. Its bone white colour with silver sequin patterns can create a sophisticated contrast to the black velvet.
Clocks
Taste in wall art is a very subjective topic, but there's no denying that a bold, simple, stylish clock is a must.
To capture the luxury hotel feel in your home, choose a clock with a large face and bold numbers. The timeless simplicity of the Charles Wall Clock will suit most homes, or add a part of artistic flair with the Iron Wall Clock from Bellevue living.
With a few simple additions, you can bring that luxury hotel feeling into your home and wake up every day in sophistication and style.
---
Leave a comment