Mattress Protectors - Buying Guide
At The Manchester Collection, we're dedicated to making sure your bedroom looks its absolute best – no matter your taste, style or budget. Part and parcel of that is also ensuring all of the basics are covered and that you have those little extras, such as mattress protectors, to help your truly love and feel comfortable in your space.
With over twenty years' experience we have both the expertise and knowledge to help you make the right choice. In this buying guide, we'll be introducing you to some of the main things to look out for when you choose your new mattress protector, from basics such as size and material to other considerations which will mean you'll soon be well on your way to a great night's sleep.
Key Considerations
A mattress protector is a removable, added protective layer which is placed on top of your mattress and underneath your fitted sheet. Mattress protectors are by no means a luxury, yet they are all too often overlooked when purchasing other items like bed linen and duvets.
If you have never purchased a mattress protector before, you might be surprised to hear that there are actually quite a few great reasons to invest in one. With the average lifespan of a mattress at around eight years, a mattress protector helps to safeguard it from wear and tear, as well as working to prevent stains. In addition, a great mattress protector provides a quick and simple way to shield against bed bugs and dust mites, keeping you comfortable all year round. Some mattress protectors offer an all-in-one approach, whilst others focus on specific key areas.
Some of the main things to look out for in your hunt include...
Sizing
Never forget how important it is to carefully size your mattress cover to your mattress. Not only does this make it easier to fit, it will also keep it secure, preventing annoying slippage while you sleep.
Thickness and Material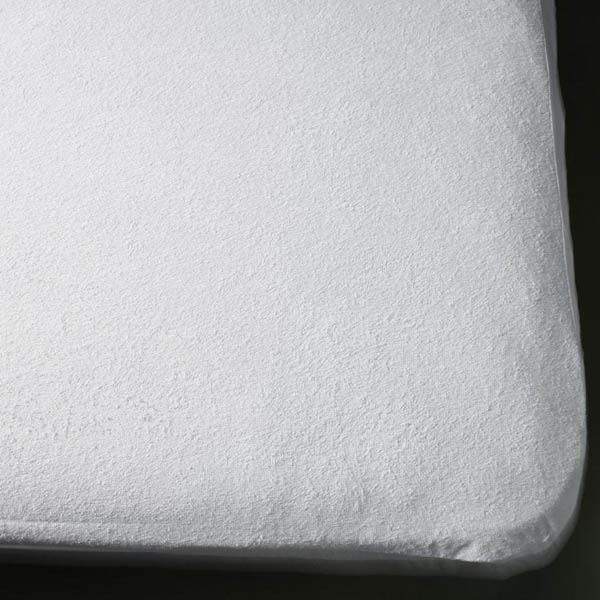 The thickness of your mattress protector helps determine exactly how protective it is. While some might think that with a strong fitted sheet there is no need for a mattress protector beneath, that's just not the case. No matter how sturdy your sheet, it won't help boost the lifespan of your mattress or safeguard against bugs or damages.
Be sure to check the thickness and material to ensure you're making a worthwhile purchase. The optimal pore size of a mattress protector is eight microns or less, and it's this that gives superior performance. Choosing an easy-care fabric will help ensure you can wash and replace your mattress cover with confidence, helping to provide even better support over the long-term.
Main Purpose
Whether it's dust mites and allergies which concern you, the need to waterproof against accidents or a need to regulate your temperature to aid restful sleep, there's three main considerations to keep in mind when you're on the lookout for your new mattress protector:
Anti-Allergy Protection
This type of mattress protector is specially treated to help discourage allergens such as dust mites from taking hold. They are particularly handy for anyone who already suffers from allergies or simply wants to add a little added extra to their new mattress protector.
Waterproofing
It's easy enough to spill things on your bedding, but it needn't spoil your mattress. This type of mattress protector is designed from waterproof material so you can catch spillages before they seep through to the mattress itself. These can be particularly helpful as part of bedding for children or for placement in a guest room.
Temperature Control
If you're one of the many people who overheat during the night, then a special cooling mattress protector is a great choice. Normally made from breathable cotton, they help to regulate body temperature while you sleep and can help to prevent perspiration getting in the way of waking up fully rested.
Types of Mattress Protector
It's not just the purpose of the mattress protector which you need to carefully consider, but also the type of fitting you choose. There are three primary forms of mattress protector design to look out for:
Zippered – These types of mattress protectors are completely closed, and can be zipped and unzipped to provide a protective casing which covers the entire mattress securely and safely.
Elastic Strap – Buying a mattress protector with an elastic strap helps to enclose the mattress over all four corners of your bed for a little added security and simple removal.
Fitted – These mattress protectors act in a similar way to a fitted sheet, sliding onto the edges and corners of your mattress whilst still being easily removed for washing or changing bedding.
Top Picks
Our range of mattress protectors is designed to offer premium comfort and functionality, keeping your mattress clean and hygienic. For those seeking a combination of breathability with optimum comfort, we recommend the cotton mattress protector, available in a wide range of sizes spanning from single beds right up to king and queen size.
Hypoallergenic microfibre meanwhile is a superb option for those suffering from allergies or hoping to safeguard against insects and other potential allergens. The additional padding on this design will also aid a restful night's sleep thanks to its comfy, quilted structure. This mattress protector is also available in sizes spanning from single through to king and queen size.
For those seeking protection from accidental spillages, we recommend the waterproof mattress protector, which combines a cotton top with a waterproof backing without neglecting the anti-bacterial properties of other options. It is the perfect all-rounder.
Final Thoughts
At The Manchester Collection, we make sure our customers have access to a wide range of items designed with both comfort and style in mind. Whether you're hoping to find the ideal all-in-one with waterproof protection, handle your allergies or simply stay cool, our selection of mattress protectors will help you do just that.
---
Leave a comment