Sheet Sets - Buying Guide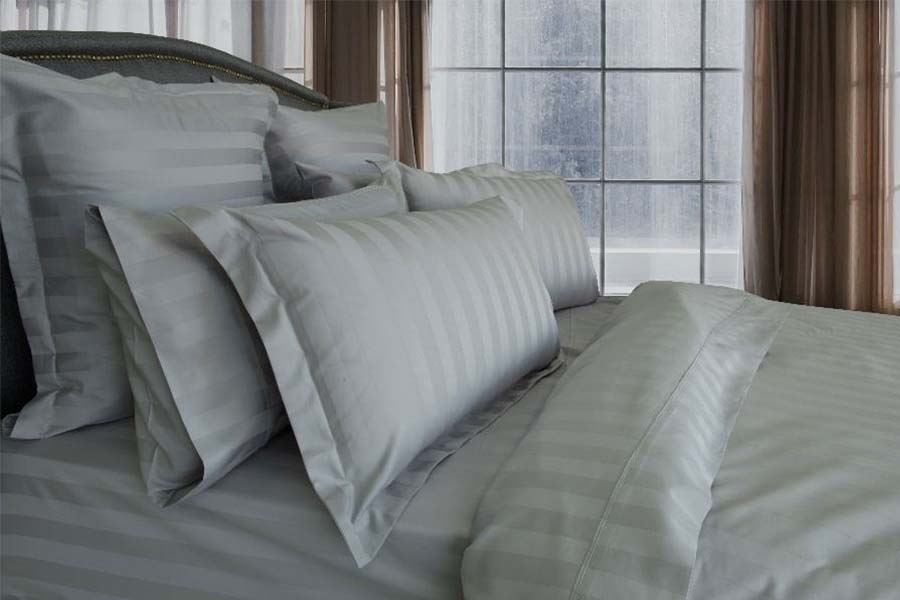 At Manchester Collection, we're serious about helping you find the perfect sheets to match your style, taste and budget. As experts with over twenty years' experience, we're here to offer our knowledge and share our passion as you embark on your latest interior design project.
In this buying guide, we'll introduce you to some of the key things to look out for when choosing sheets, so you can purchase with confidence, whether you're revamping your master bedroom or decorating the guest room.
Key Considerations
There's no need to overcomplicate the process of finding some great new sheets and there's certainly no need to compromise on either style or comfort, you just need to discover what works best for you.
Simply take note of the following things during your search, and you'll soon be well on your way to a restful night's sleep in stylish, comfy new sheets…
Thread Count
Just like choosing bed linen, sheets come in a variety of different thread counts, all suggesting a different texture and quality. Thread count is the number of threads per each square-inch of fabric, calculated lengthways (warp) and width-wise (weft), to produce the final number. The higher that number, the more luxurious your sheets are likely to be.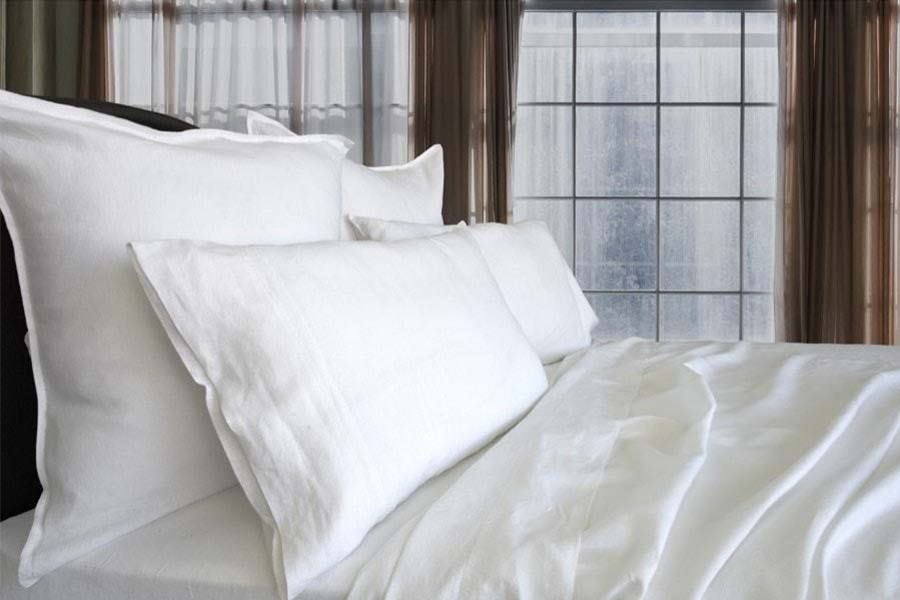 120-180 Thread Count – Great for decorating rentals or basic, occasional use (such as a spare bedroom). This is also a good starting point for those wanting to keep a set of spare sheets in the house.
200 Thread Count – Light and airy, 200 thread count sheets are perfect for summer and warmer climates. High quality and great for buying sheets on a budget, these sheets will be soft but not as soft as higher thread counts.
400 Thread Count – Durable yet still light. This is the thread count used by many major hotel chains, so if you want to create a sense of luxury at home, look for around a 400 thread count when buying your new sheets.
600 Thread Count – A more exclusive feel, 600 thread count sheets tend to be favoured by luxury hotels. It's a great choice for domestic use if you really want to spoil yourself and have the budget to do so. These are sheets with great staying power, so you can consider them an investment.
800-1200 Thread Count– Full fabric, and very durable, this thread count is best for those looking to make a real investment in new bed linens which will keep the same high quality year after year. Softness is also unparalleled.
Thread count certainly matters when you choose your sheets, but it's best not to obsess about it – clever marketing has led some manufacturers to inflate their own thread counts because there's no real, verifiable way to truly measure thread count once a sheet has been created. Trust your instincts, stick to your budget and be sure to pay attention to other factors too.
Fabric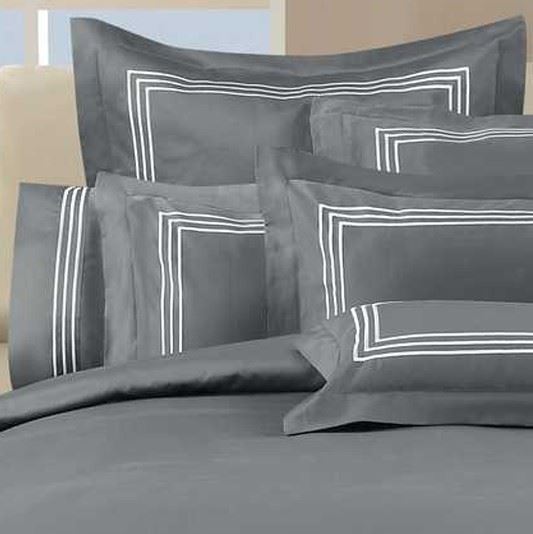 There are many different fabrics in which you can buy sheets, but we find that breathable cotton is the most popular with our customers and combines both durability and comfort. Linen and jersey have also become increasingly popular in recent years. To recap, the main varieties on offer are:
Cotton – breathable, soft, durable and classic.
Linen – a high-end feel, breathable and light.
Jersey – cosy, low-maintenance.
Size
Maybe you're redecorating, complete with a brand new bed. Perhaps you're just looking to refresh your existing look? No matter what, be sure to find out precisely the size of sheet you really need ahead of purchasing. If you don't know ahead of time, with so many sizes on offer, it's very easy to get it wrong. Also be sure to factor in the size of your mattress – particularly when buying fitted sheets, where every single cm. of difference counts to ensure a great fit. We stock all the way up to Super King Size, so you'll be spoilt for choice!
Colour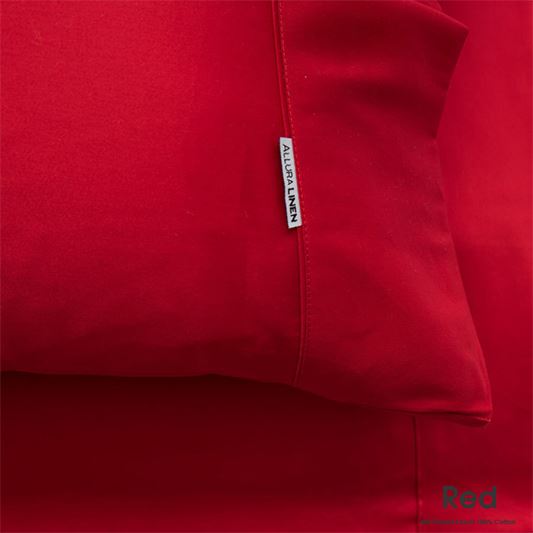 Colour has a huge impact on your overall aesthetic. You might want to match your current duvet cover, or be looking for an impactful contrasting effect, or even keep things nice and neutral. Weigh your options and don't be afraid to play with new and unexpected colour combinations. These can include:
White – Flexible, adaptive and instantly evokes a clean feel. Great for monochrome looks or times when you simply want to keep it straightforward.
Black – Another great monochrome choice, but this can also bring a sense of drama to your sheets. This colour acts as a wonderful base for brighter shades, and similarly remains simple enough to make an impact on its own.
Neutrals – Neutral or muted colours are a simple way to add a little interest to your sheets, without committing to any particular colour pattern. This makes them a great choice if you're undecided about your duvet cover or overall décor.
Brights – Choosing a brightly coloured sheet will instantly bring vibrancy to your bed set, and can be mixed and matches with different colours for either an eclectic or matching look.
Season & Climate
The time of year and climate your sheets are for will help make your decision much easier. Linen is a popular choice in summer, whilst jersey works well in colder climates and cotton is a great all-rounder for temperate climates. It can be tempting to reach for the first sheets you find in the right size, but taking all of these other factors into consideration will help you find your perfect match that bit faster!
Top Picks
Our range of sheets will help you design the ideal space for your own perfect night's sleep, as well as making sure your bed always looks fantastic. Stocking sheets from double right up to super-king, there's something to suit every room and every taste.
For the ultimate in luxury as well as plenty of space, we recommend the 1000 Thread Count Mega Sheet Set in Black, providing an incredibly high thread count for an opulent feel, teamed with a timeless, flexible design which will work well with a range of different duvet covers. This fitted sheet is ideal for many different mattresses, and one of our most popular online items.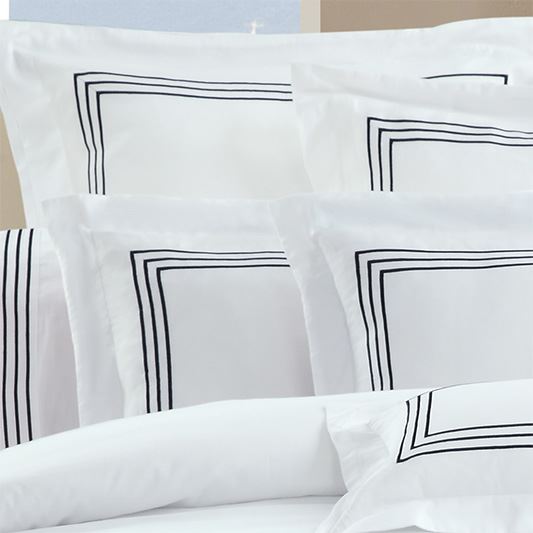 For a more casual, everyday look and feel, we recommend the comfy 400 Thread Count Sheet Set in White, available in a range of different sizes and ideal for an easy care finish which will work well with a wide range of different colours and textures to create a look which is uniquely 'you'.
We also highly recommend our 1200 Thread Count Sheet Set in Black, ideal for those seeking a distinctive design aesthetic whilst not compromising one bit on quality. Soft and comfy yet striking to behold, these sheets would be perfect for creating a monochrome look which carries through to other areas of your décor. It can also be used to provide a solid block colour base for more colourful and vibrant design choices. Crafted from wrinkle-resistant cotton, it's great for ensuring your bed always looks great – and with generous fitted sheet dimensions, this is also a brilliant choice for keeping things balanced between luxe and low-maintenance.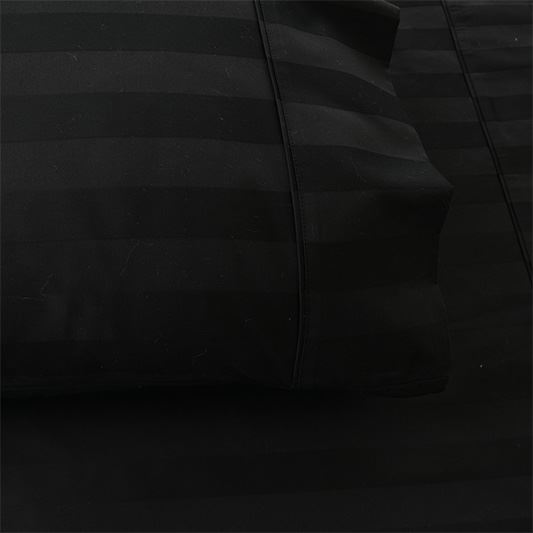 Final Thoughts
We pride ourselves on going the extra mile to ensure our customers find exactly what they need. Thanks to our extensive range of stylish, comfortable sheets in timeless designs and a wide range of sizes, you're sure to find something that works for you.
Deciding which sheets to choose can be difficult with so much choice on offer, but whether you want to keep things simple, increase the luxury feel or really push the boat out, buying the right sheets should be a little simpler now you know what to look out for.
If you have any questions or queries, please don't hesitate to get in touch.
---
Leave a comment