Pillowcases - Buying Guide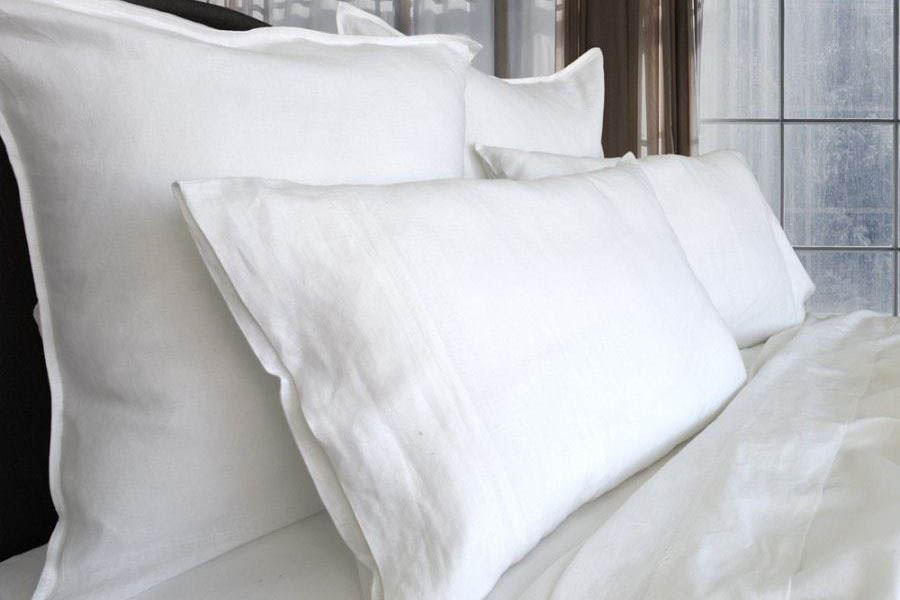 People usually put a lot of thought into their pillows. They pay attention that it's not too soft, not to firm and shaped just right for their body. However, not many people think about what goes over the pillows.
It's true that pillowcases are often neglected, even though they are an essential part of every bed set and can protect both your skin and your pillow. This means that by choosing the right pillowcase, you will not only ensure your pillow stays in top shape for a long time, but also provide yourself and your loved ones with better sleep.
Here at Manchester Collection, we know just how important it is to have a fitted pillowcase made of quality materials, so we've made a little buying guide that will ensure you always make the right pick when choosing your pillowcase.
Which fabric is the best?
The first thing you need to consider when shopping for any sort of bedding is the type of fabrics. Materials will not only determine the longevity of your new pillowcase, but they also affect the comfort. The best option you can choose is fabrics that offer maximum softness and cosiness that will last you a long time.
Just like sheets and quilt covers, pillowcases can also be made of different materials, both natural and synthetic. Sure, polyester materials might feel soft to the touch at first, but the reason they feel so silky and smooth is the use of synthetic materials. These fabrics are not only less durable, but also don't allow the pillow or your skin to breathe. Plus, maintaining them will require much more effort.
That's why Manchester Collection recommends getting high-quality natural fabric that has plenty of strength for long use. Cotton and linen are your best choices because they are breathable and luxurious and it will stay that way for many, many years. And, washing them is super simple!
All in all, cotton and linen are very versatile materials, so you can find different pillowcases with various weaves and styles (i.e. jersey cotton), so you'll surely find something in our collection that fits your needs. For a more decorative option, we also sell genuine velvet pillowcases that will look amazing with any lounge or bedroom décor.
Which size do I get?
Now that you know which fabrics are the best, it's time to consider the size of your pillowcase. Since you probably already have a perfect pillow for you, you want to dress it into a size that will fit it appropriately. This phase of choosing a pillowcase might seem easy, but it can be quite tricky.
Usually, there are four different pillow sizes used in Australia, Europe and the United States. There's a standard pillow that's rectangular and it measures 48cm x 74 cm. This type of pillow is usually recommended for twin, full and queen beds. European bed is square and it usually measures 65 x 65 cm. The queen pillow is similar to the standard one but a bit longer. The standard size of a queen pillow is 54 x 80 cm. The king pillow is designed for king beds and is even longer at 50 x 90 cm.
At Manchester Collection, we sell everything from Standard Pillow Cases, European Pillow Cases, Queen Size Pillow Cases and King Size Pillow Cases, together with some niche sizes and shapes like U-pillow cases. They also come in various colour palettes from neutral white, charcoal, linen and black to more vibrant colours like blush and teal.
Pro tip: Measure your pillows. Some people spend their whole life sleeping on a too small pillowcase without realizing they need a bigger model, especially people who use latex, memory foam or Bambillo pillow. These special pillows might have regular measurements, but their profile requires a larger pillow case that will provide a better fit and allow it to breathe.
What about the thread count?
You must have heard about the phrase "thread count", but let's explain what that actually means. Thread count or threads per inch (TPI) is a measure that states the fineness or coarseness of fabric. It measures the number of threads in one square centimetre or inch of fabric, both length- and width-wise. When you count the number of threads in one square centimetre (up and across) and add them together, you get thread count.
Thread count often measures the quality of the fabric and the higher the number the better the quality. For instance, the "standard" cotton thread count is between 100 and 150 while better quality pillowcases start at around 180. A count of 200 and more is considered a great quality fabric.
For instance, our top-selling product King Size Pillow Case has 400 thread count which means it's exceptionally durable, soft and silky smooth. We also sell highest-quality cases with up to 1000 thread count for ultimate comfort!
However, even if you see a high thread count, it doesn't mean you're getting a quality pillowcase. Sometimes, the number of threads can be inflated by manipulating the manufacturing process. Always buy products from reputable retailers like Manchester Collection to ensure you're getting your money's worth.
Are there different closing options?
Another thing you need to pay attention to is shams and closures. Not many people know that there's a difference between pillowcases and shams. Essentially, they both cover pillows and protect its filling, but shams have extra fabric around the edges and are usually finished on all four sides. Shams also often open in the back and are usually used for European pillows or decorative pillows.
On the other hand, pillowcases provide an easy access with an envelope or full opening on one side and no extra fabric. In order to get the best model for your pillow arrangement, your sleep habits and your pillow type and maintenance routine, so be careful which type you pick for your bed.
What to look for in the finish?
Also, pay attention to the final look of your pillowcase. Cheap fabric will have an uneven or poor-quality stitching that will fall apart quickly, so how and where the bedding is produced plays a major role. For instance, Manchester Collection works with top manufacturers from China who make sheets, covers and pillowcases for the biggest sheeting brands.
How do I care for my new pillowcase?
Once you pick out your Manchester Collect pillowcase or any other kind, washing before the first use is always recommended. The best way to retain that crisp look and colour of your pillowcases is to launder whites and coloureds separately on a gentle washing machine cycle (40 °C) using liquid detergent.
When it comes to drying, you can line dry them or tumble dry on low. Dry cleaning is not recommended. You can press your new pillowcase if you desire, but use a cool iron or iron on reverse.
Now that you know exactly what to look for in your new pillowcase, you're ready to treat yourself to the best night's sleep you've ever had!
---
Leave a comment