Why Egyptian Cotton Sheets?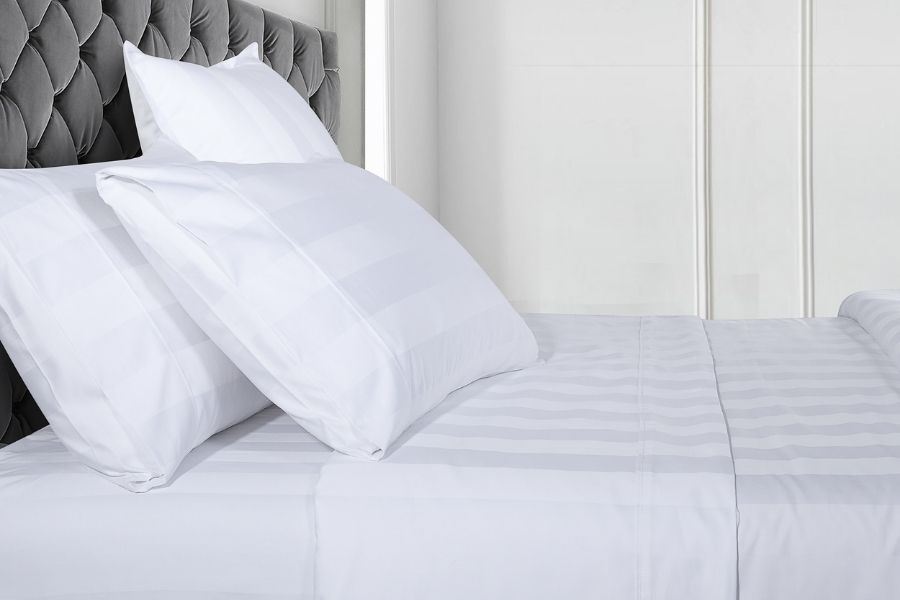 The variety of choice for bed sheets can be overwhelming. And not all are created equal. As fabrics serve different purposes, consider — i.e. season, durability — when making your choice. Luxury brands worldwide look to Egyptian cotton, known for its softness, strength and quality. 100% Egyptian cotton represents the standard for ultimate luxury in the industry. And what makes Egyptian cotton special and therefore Egyptian cotton sheets? Read on, and we'll take a look.
What is Egyptian Cotton?
It's grown and produced in a specific region of Egypt, the Nile Delta. The rich, fertile soil around the Nile River creates the ideal growing conditions for a unique type of cotton. Not the same plant species as regular cotton but Gossypium barbadense, known as extra-long-staple cotton (ELS).
Softer, Silkier & Stronger
The word staple is used to describe the length of the cotton fibre. Egyptian cotton is famous for its extra-long staples, the longest of any cotton. These create softer, silkier and stronger bed sheets. Why? Longer threads result in more durable fibres. It allows the threads to easily combine and create an exceptionally fine yarn with a superior lustre and softness. That sets it apart from ordinary cotton fibres.
No Pilling
Pilling forms small tufts of fabric — that can be aesthetically unappealing and uncomfortable to the touch. They often appear on low-quality sheets and lower thread counts, but you won't see them with Egyptian cotton. The longer threads of Egyptian cotton produce little (if any) lint, making pilling unlikely.
Vibrant Colours for Longer
Another feature of Egyptian cotton is that it's highly porous and absorbent. Its porous nature allows dyes to absorb easily, producing brightly coloured bed sheets that are less likely to fade over time.
Higher Thread Count
When it comes to 100% cotton sheets — thread count matters and is a measure of quality. It represents the number of threads woven together to create a single square inch of fabric. Egyptian cotton naturally has a higher thread count than other cotton varieties, partially due to its longer length staples, resulting in premium quality. Typically any bed sheets with a thread count of 300 or higher are high quality and considered opulent. Our collection of Egyptian cotton bed sheets have a 1200 thread count. You'll marvel at their luxurious feel.
Breathability
For bed sheets with lightness & breathability in the summer and warming properties in the winter — look no further than Egyptian cotton, the lightest by weight of any cotton. It's a 100% natural fibre that allows heat to escape between its threads — leaving your body cool and comfortable. Especially beneficial for sensitive skin as sheets are soft to the touch and don't stick to the skin on hot summer nights.
Durability
While on the pricier end, the initial investment in Egyptian cotton bed sheets will be worthwhile. With proper care, they'll last the longest of all fabrics due to the high density and tight weave of the material — thanks to Egyptian cotton's long length and fineness.
For unbeatable value on 100% Egyptian cotton, take a look at our collection of bed sheets and quilt covers.
https://www.manchestercollection.com.au/quilt-covers/egyptian-cotton-range/
https://www.manchestercollection.com.au/bedding/sheets/egyptian-cotton/
---
Leave a comment