What's all the rage with Waffle Quilt Covers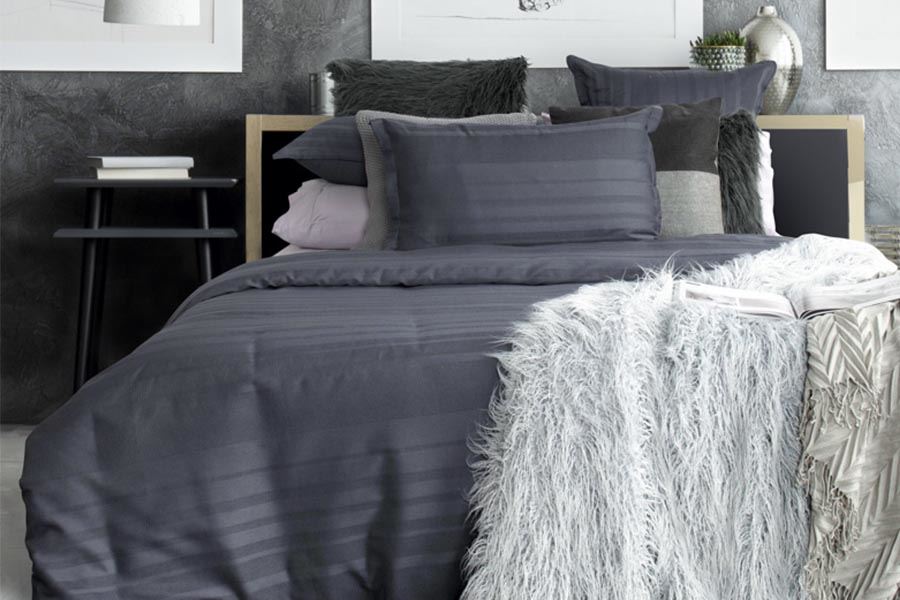 If you're unfamiliar with the concept of waffle quilt covers, don't worry — there's not a growing trend of breakfast-themed quilt covers going around. You will find no prints of breakfast waffles slathered in syrup on these covers. Instead, you will find a comfortable, breathable cotton weave style that is fast becoming a popular choice in many bedrooms.
What are waffle quilt covers?
Waffle quilt covers get their name from the cotton weave they're made from, known as waffle cotton weave. The "waffle" part comes from the fact that the weave resembles the distinct grid pattern of the popular breakfast meal.
Cotton waffle weave comes in a variety of weights, allowing you to choose a quilt cover that suits different times of year. From light summer covers to heavier winter offerings, there's a waffle quilt cover out there for you.
It's worth noting that the weave style is also known as "honeycomb" weave, as the interlocking grids also resemble a honeycomb. If you see a honeycomb quilt cover, honeycomb cotton weave, etc, it's the same as the waffle style.
But why do people want them to begin with? What's so special about them?
What are the benefits of waffle quilt covers?
Waffle quilt covers offer style, comfort, longevity and luxury.
Firstly, the quilt covers are made from 100% cotton, providing all of the benefits this entails such as:
Breathable, so you never feel too hot.
Soft on the skin for a relaxing night's sleep.
Low maintenance. Cotton only needs a regular wash and can be dried in a low-heat tumble dryer.
But there are many other cotton quilt covers out there. What makes the waffle cotton weave in particular so attractive?
Textured for added style.
The unique texture of the waffle cotton weave provides an instant design element to your bedding. Textured bedding catches the light in unique and visually appealing ways, providing extra style.
Alternating a textured waffle weave with a smooth weave can result in a simple but visually — and texturally — pleasing design.
Unique weave enhances the benefits of cotton.
Cotton is already an absorbent, breathable fabric. With a waffle weave, these properties are enhanced.
Because of the raised surfaces of the weave, the cover actually has a much larger surface area than plain covers. This makes it much more absorbent, keeping you dry and clean during humid summer months.
Airflow is increased by the weave, making it more breathable. Just as waffle quilt covers are more absorbent, they also dry even faster.
And perhaps best of all, there's much less ironing, if any. The cover is supposed to be richly textured, and wrinkles are often hard, if not impossible, to notice.
Unique, pleasant feel
Waffle weave quilt covers have a pleasant, soft, springy feel to them. They're a perfect addition to any linen set to provide a unique sleeping experience, with a style and comfort you will quickly come to love.
Waffle Quilt Cover showcase
We have an excellent range of waffle quilt covers available at the moment.
Available in 6 different colour-ways and an extensive range of sizing options to cater for all modern bed sizes, including Single, Double, Queen, King and Super King. Whatever your style requirements and décor budget, shop our high quality, stylish Waffle Duvet Covers Online and in one of our Melbourne, Victoria stores for great value.
For straight, bold colours to suit any style, consider our Jax Chunky White or Charcoal quilt cover sets. These simple neutral colours will complement any bedroom design you place them in.
If you're after something with subtle patterning, our Oxford Charcoal set provides a pleasant, versatile styling option. It alternates waffle and straight weaves for an interesting, diverse texturing, great to look at and sleep on.
In conclusion
Waffle quilt covers are a popular choice at the moment, and it's not hard to see why. For style, comfort, and ease of use, you cannot go past a new luxury waffle quilt cover set.
---
Leave a comment