Trend Alert: Watercolour Floral Bedding This Autumn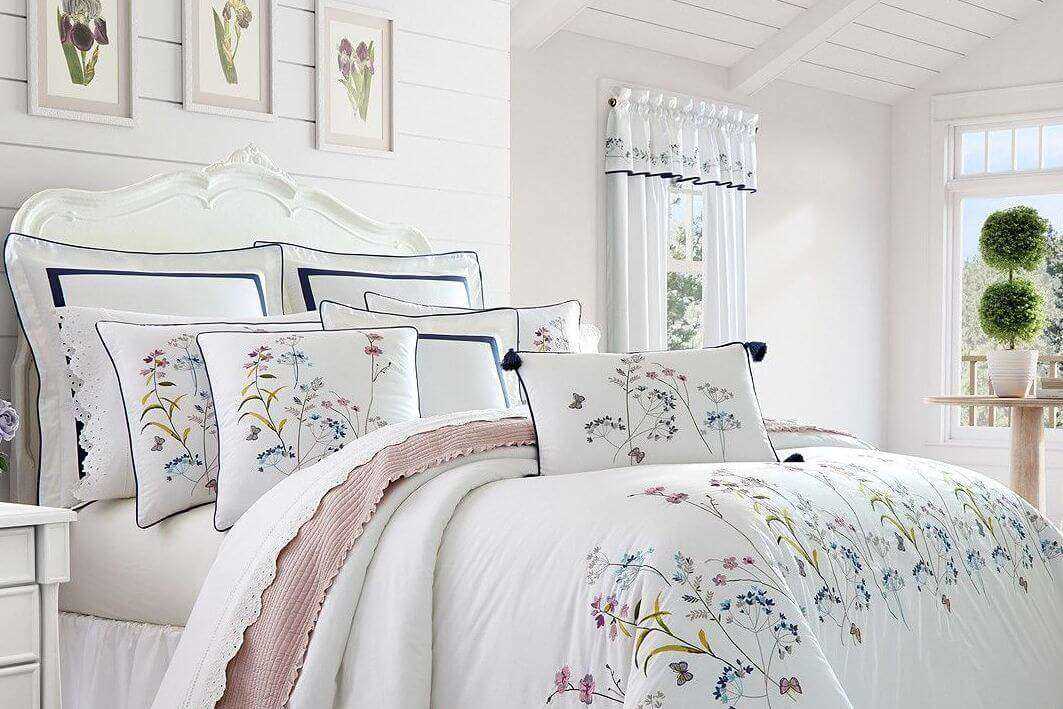 Roll-up, roll-up, the latest trends for autumn are here. And the newest one we're going to talk about today is —watercolour floral bedding. It's subtly elegant and a sure-fire way to brighten any space. Suppose you feel that floral patterns are too overpowering and shocking. Then, watercolour floral prints are an excellent alternative with delicate designs and muted tones. Resulting in understated sophistication in your bedding.
Whether you'd like to evoke the dainty feeling of an English garden or the wildness of the Australian bush —you can easily take your floral bedding in many directions. And the key is in the styling. Let's go through a few ideas that maybe you'd like to try.
Light & Airy
Floral patterns don't have to be old-fashioned or frumpy. Pick designs that have a predominantly white background with delicate flowers. And it'll be as light as petals dancing in the wind. The trick is to keep all other furniture pieces as simple as possible, and in white or light pink, yellow. Take the opportunity to include natural materials like wood —this will ground the room. Particularly lovely is a white wood headboard for your bed. Here are a few inspirations below.
Bedding Options
https://www.manchestercollection.com.au/gabrielle-quilt-cover-set
https://www.manchestercollection.com.au/botanist-quilt-cover-set
White & Blue
A timeless combo —blue & white. Like precious porcelains and the famous Wedgewood ceramics, this colour palette will inject refined elegance into your space. Pick a blue & white floral bedding to start this theme. Then keep all other pieces in these tones of blue & white. You'll see how seamless your styling will look when you can only choose two colours, and it will make decision-making easy. If you're feeling bold, perhaps you can even try blue wallpaper.
Bedding Options
https://www.manchestercollection.com.au/mali-quilt-cover-set
Accent Colours
Here's a simple decorating tip to keep in mind when dealing with patterns. It's easy to achieve yet will make your room look super stylish. Choosea colour you like in the print(usually not the dominant colour). Then, incorporate it into other items in the room —i.e. cushions, throws, lamps. It will also help to bring the whole space together into a cohesive whole.
Bedding Options
https://www.manchestercollection.com.au/mali-quilt-cover-set
Dark Romance
Enjoy the glamour and moodiness of romance novels? And dream of a bedroom filled with coziness, somewhere to snuggle up on cold wintery nights? Then maybe this theme is for you. It's all about incorporating textures and fabrics that give comfort and warmth. Add velvets, embroidered pillows and jewel tones as much as you can. Also, throws, rugs and quilts help to enhance the allure of the bedding. Stick to a colour scheme rich in emerald greens, purples and deep blues. These symbolise depth and intensity, just like human emotions, especially love. And pick darker bedding tomatch. You can't go wrong with a velvet headboard for your bed and a vase of fresh flowers on the bedside table. Hearts will be aflutter with romance!
Bedding options
https://www.manchestercollection.com.au/peyton-velvet-quilt-cover-set
https://www.manchestercollection.com.au/willow-velvet-quilt-cover-set
---
Leave a comment