Tips On Styling Your Bed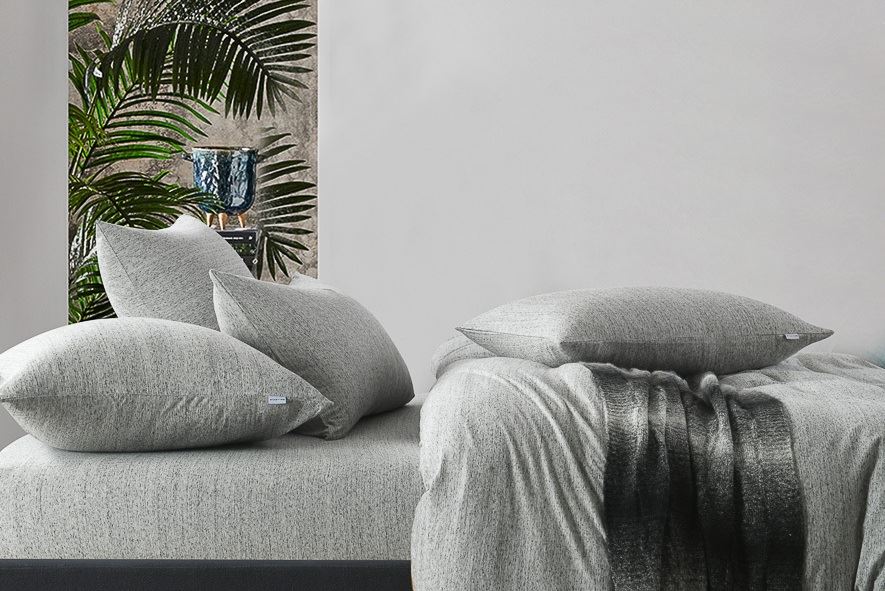 Having a well-made bed can be highly satisfying and calming. Despite everyday stresses and days when nothing seems to be going right —simply having a neat and tidy bed can lift our mood. It also is a pleasure to sleep in every night. And believe it or not, there are many psychology studies out there that attest to the positive powers of making your bed every day. Having said all that, we're here to give you some tips and show you how the interior design experts style a bed.
First, let's keep it simple and start with a step-by-step guide on how to make your bed.
Step 1 –Fitted & Top Sheet
Start with a fitted sheet and arrange it on your mattress. Then add a flat top sheet. Take care to tuck the bottom of your flat sheet into your mattress and fold back the top part. Make sure to place your top sheet with the finished side facing down —so you enjoy softness when you sleep, and the top side will be exposed when you fold it back.
https://www.manchestercollection.com.au/bedding/sheets/fitted/
https://www.manchestercollection.com.au/bedding/sheets/sets/
Step 2 –Bedspread
Next up is the bedspread. It will give an added layer of comfort and add to your bed's cocoon feeling. Here's where your personal style can shine through. It's recommended to pick a colour scheme (i.e. white, browns, greys or colour) and a theme (i.e. modern, coastal, minimalist) and match all bedding to it. It doesn't mean all your bedding needs to be the same colour & print but find harmony. Make sure there's at least one element in every piece that's the same as the rest. Then you'll have a stylish room that works together.
https://www.manchestercollection.com.au/bedspreads
Step 3 –Doona or Quilt
You can skip this step if you like and finish your look with the bedspread. But, usually, for the winter months addinga doona or quilt will bring much needed warmth. Also, the coziness level of your bed will dramatically increase. The professional technique is to fold the doona in half, then fold that half again into a third. It showcases the fluffiness of the doona and leaves space for throws, sheets, quilts & pillows.
https://www.manchestercollection.com.au/bedding/quilts/
https://www.manchestercollection.com.au/quilt-covers/jersey
Step 4 –Pillows
Play along with everyone else and get involved in the pillow game —an easy way to incorporate exciting textures and colours into your bedding. Just be careful not to overdo it. A general rule is to decorate your bed with two standard sleeping pillows (match to your sheets) and then layer. Stack another two rectangular pillows (in an accent colour) and finish off with a decorative cushion.
https://www.manchestercollection.com.au/home-decor/cushions/
Step 5 –Finishing Touches
Time to add the final details to your bedding and transform it into a magazine-worthy look. Layer it up! Blankets, throws and faux fur are all excellent details to consider. For a professional finished look, try adding a bed runner to the end of your bed.
https://www.manchestercollection.com.au/home-decor/throw-rugs/
https://www.manchestercollection.com.au/bed-runners
Final Styling Tips
Don't be afraid to change up your look seasonally. Adapt to the seasons with different fabrics: cotton for summer, wools & flannels for winter and linen for the in-between months.
For extra glamour and drape, go a size up when choosing your quilt cover. e.g. if you have a queen mattress and sheet set, optfor a king-size quilt cover.
---
Leave a comment