Create A Bohemian Feel In Your Bedroom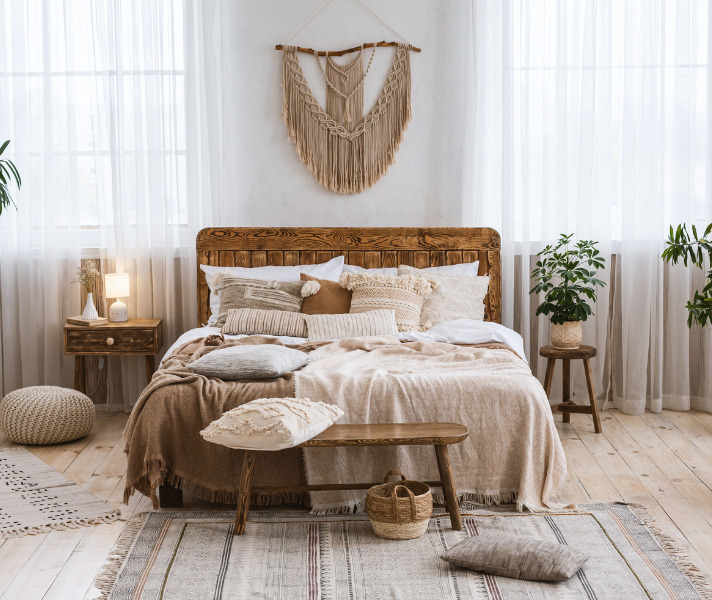 Imagine faraway places, exotic fabrics and exciting conversations. Welcome to Bohemia. The style takes its inspiration from the free-spirited lives of artists, writers, poets and travellers of the early 19th century. When it comes to bohemian styling, the essential tip is to mix n match —colours, patterns, fabrics. And when in doubt, remember "more is more". It's the perfect interior décor to try, as the more style rules you break, the better.
Our bedrooms are much more than the places we sleep in. They should be calming sanctuaries which we can escape to, to rest and recharge. And bohemian style, with its focus on a relaxed aesthetic, could suit very well. Keep in mind that you can take bohoasfar or as subduedas you'd like. And now, let's take a look at a few simple tips to increase the bohemian feel of your bedroom.
Rattan Headboard
For a pared-back version of the bohemian style, try a rattan headboard for your bed. Keep all other interiors in neutral tones. Anytime you incorporate natural materials, like wood, they create a grounding and calming atmosphere in a room. You can choose any ornate and intricately detailed headboard to recreate the feeling of laidback living. And if you'd like to be grand, perhaps even try a canopy or drapes around your bed —and dream of the exotic places you'd like to visit.
Lived In Linens
A simple way to increase the relaxed vibe of your room is with linens. It's a lightweight, breathable, natural fabric that will instantly put you more at ease. Think of it as the linens you would see on a luxury safari. It's of premium quality but with a rustic, worn finish —highlighting the adventurous lives lived.Make the bedding drape to the floor to increase the effect.Here are a few top examples from our collections.
https://www.manchestercollection.com.au/vintage-washed-linen-quilt-cover-set-linen
https://www.manchestercollection.com.au/vintage-washed-linen-quilt-cover-set-white
https://www.manchestercollection.com.au/vintage-washed-linen-quilt-cover-set-charcoal
Clashing Colours & Patterns
Colour lovers rejoice —with the bohemian style, there are no rules. The brighter the colours, the better. Here is where you can experiment and combine all sorts of different colours and patterns together in one space —we'll let you be the judge. Incorporate more exotic influences into the room using tapestries (which can even be hung on the walls) and patterned rugs. Mix eccentric pieces of furniture, like flea market stools & lamps, with neutral-toned bedding and wooden materials. For a striking statement, wallpaper your walls with a beautiful print, and don't stop there —add some artwork to those walls. Seize the chance to showcase your wonderful personality.
Fringe & Macramé
Continue the feeling of free-spirited fun and adventure with fringe and macramé. Easily incorporate these textures with cushions, throws and rugs. Macramé wall hangings are also popular and will instantly inject character into a room.
Some items you can add to the room.
https://www.manchestercollection.com.au/gael-cushion-red
https://www.manchestercollection.com.au/martin-cushion-charcoal
https://www.manchestercollection.com.au/mateo-cushion-grey
https://www.manchestercollection.com.au/jaden-throw-mocha
https://www.manchestercollection.com.au/sean-throw-sage
Eclectic Lighting
Bohemian interiors are all about being unconventional. Replace traditional lighting and fixtures with more unique pieces. Low hanging pendants will create moodinessand intimacy. Consider arranging several small lamps around the room —and make sure they're all various shapes, colours and designs.
---
Leave a comment