Hamptons style for your bedroom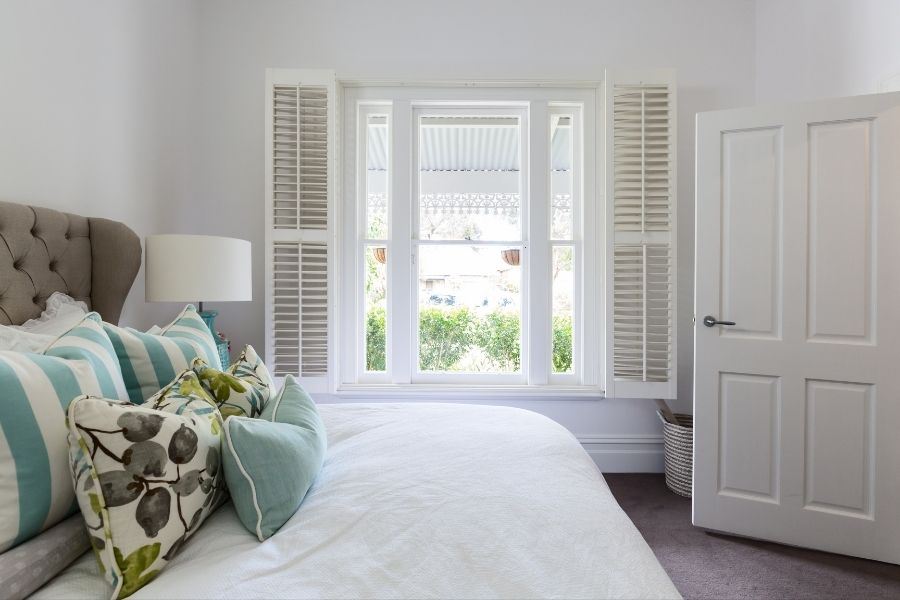 The interiors of the Hamptons continues to inspire. Originating from the luxurious beachside mansions of the East coast of America, its mix of relaxed and refined translates perfectly to Australia and our lifestyle. Think luxe holiday beach house. It highlights the beauty of a simple colour scheme (whites, blues & neutrals) and focuses on natural quality fabrics (cotton & linen). With the bedroom a type of sanctuary — it's a perfect fit for the Hamptons style. So please read on to discover our easy decorating tips on how to achieve the Hamptons look in your bedroom.
1. Hamptons colour palette
The colour palette of the classic Hamptons style is very simple — whites, blues & neutrals (greys, earthy tones). Use this palette as your foundation, and start all styling with these colours in mind. Don't worry; the result is not dull at all! It gives you the freedom to layer different shades of the same colour in different textures to create interest and depth. We suggest combining: whites & neutrals or whites & blues. Lighter shades of blue create a more relaxed aesthetic, while darker blues like navy can be used to create more warmth and grandeur. You can't go wrong with a bedspread in crisp white linen or cotton — it's a classic look. Whilst it's important that interiors are aesthetically pleasing, we'd all also like to get a good night's sleep — white bed sheets will bring tranquillity and peace. Here's a few favourites from our collections.
https://www.manchestercollection.com.au/medici-white-bedspread-king-bed
https://www.manchestercollection.com.au/ellis-white-quilt-cover-set
https://www.manchestercollection.com.au/amari-white-quilt-cover-set
https://www.manchestercollection.com.au/ivy-white-quilt-cover-set
A signature look of the Hamptons style is blue patterned décors. These enhance the glamour & wow factor of your bedroom.
2. Make your bed a statement piece
What's the most important piece of furniture in a bedroom? We're guessing it's the bed! So set the tone for the rest of the room by thoughtfully selecting your bed — and make it a statement piece. The Hamptons style keeps to a simple colour scheme and adds glamour with oversized furniture and bold key pieces. Here's a few options:
large headboard, usually upholstered. Or if you prefer timber choose it in a neutral colour
canopy bed, for something a little different & grand
add an ottoman at the end of your bed to increase the glamour. It's also functional, as it can be used for storage
3. Layer with cushions & blankets
To evoke a relaxed, welcoming feel make sure to add plenty of cushions & blankets. This is an easy way to work the colour blue into your room and also add interesting textiles. Take inspiration from looks like these:
There's a few cushions from our collections that would fit in with this style — see them below.
https://www.manchestercollection.com.au/martin-cushion-natural
https://www.manchestercollection.com.au/mateo-cushion-tourmaline-blue
4. Don't forget about rugs
Oh, what a joy to walk around the house barefoot in the Summertime. And what makes that even better? Comfortable rugs. There are a few different directions you can take this styling item. Either choose rugs with the classic Hamptons print of geometric blue & white. Or go for a more relaxed, earthy aesthetic with natural fibres like rattan or fringe. It creates depth and interesting textiles to make your bedroom warm and inviting.
5. Ocean-inspired artwork
Hear the sounds of the beach and feel the warmth of the sun — with artwork and ocean-inspired prints. Simple yet effective décor ideas to evoke a sense of permanent holiday spirit in your bedroom. This will help tie together all the elements in your room in true Hamptons style. A few beautiful examples:
A fun, hassle-free way to incorporate this design into your room is with cushions. Here are some you might like that feature whimsical beach designs.
https://www.manchestercollection.com.au/summer-beach-cushion
---
Leave a comment