How To Dress A Bed With A Throw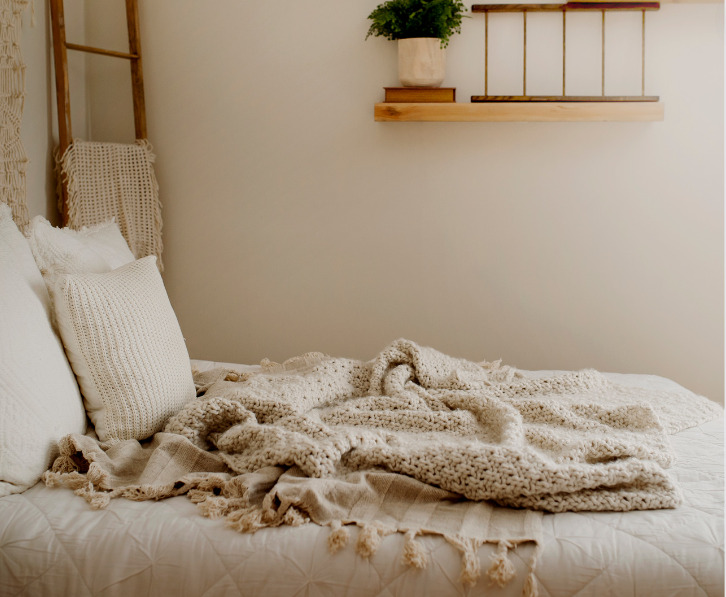 To make your bed look polished and inviting, make sure to dress it with a throw. We'll show you a variety of examples of how to use throws in your bedding. And hopefully, you'll get some ideas and feel inspired to use them in your own life. You'll know you've dressed your bed perfectly when it's so cozy and inviting that you won't want to leave it in the mornings. Generally, arrange your throw on the end of your bed, on top of your sheets, bedspread and duvet. The latest trend is to style your throw informally, amping up the cozy factor. It doesn't need to be precisely ironedand folded, instead arranged in a natural way.Discover some exciting styling options for throws below.
Sumptuous Furs
A faux fur throw will instantly elevate the luxury factor in your room. Especially welcome on cold winter nights —these throws are both practical and super stylish. They're very versatile and will suit a variety of interiors.
A modern, sleek room with lots of black and chrome finishes will benefit greatly from a faux fur throw.

Any room that has leather pieces will be instantly softened and made more inviting.

Dream of sleeping on a cloud? All-white bedding combined with a white faux fur throw may do the trick.

If your space is filled with romantic vibes (i.e. delicate wallpaper, ornate headboard), adding some faux fur will be sure to increase the glamour.
Faux furs in our collection
https://www.manchestercollection.com.au/chinchilla-throw
https://www.manchestercollection.com.au/troy-throw
Natural Materials
Focus on high-quality linen and cotton in your bedding, then add a throw. Or even two. The key is to create a calm and relaxed atmosphere in your room with lots of layers. Select earthy colour tones (greys, creams, light browns), adding to the sense of tranquillity. Natural materials are very appealing to the touch and comfortable on the skin. A type of aesthetic that's very trendy yet will make for a perfect cocoon-like bedroom that you'll never want to leave.Looking for Zen-like serenity? Nothing beats a crisp white throw draped over the end of a bed.
https://www.manchestercollection.com.au/miles-throw-olive
https://www.manchestercollection.com.au/marcello-throw-linen
Striking Statement
If you'd like to make a bold statement with colour —use a throw. Decorate your bedroom predominantly in the same colour or shades and then juxtapose it with a vivid throw. The goal is to make a powerful impact by choosing colours that contrast with each other. It's a simple way to brighten up any space.
Layering Textures
To create warmth and comfort in a bedroom, layer as many different textures and colours as you like. Take your chance to find the softest blanket you can and decorate it on your bed. To make things more exciting, think of adding unexpected texture combinations, like linen and wool. It will instantly transform your room into a haven of coziness.
Discover our selection of cozy throws
https://www.manchestercollection.com.au/joel-throw
https://www.manchestercollection.com.au/brooklyn-throw-silver
Sophisticated & Stylish
A throw need not be only for the wintertime. By specially selecting lightweight fabrics (like cotton and linen), you can use a throw all-year-round. To make it a stylish accent for the end of your bed, pick striking colours and patterns. Keep the rest of the bedding simple and coordinated —then wow with the throw.
---
Leave a comment