Brand Spotlight: Hoteluxe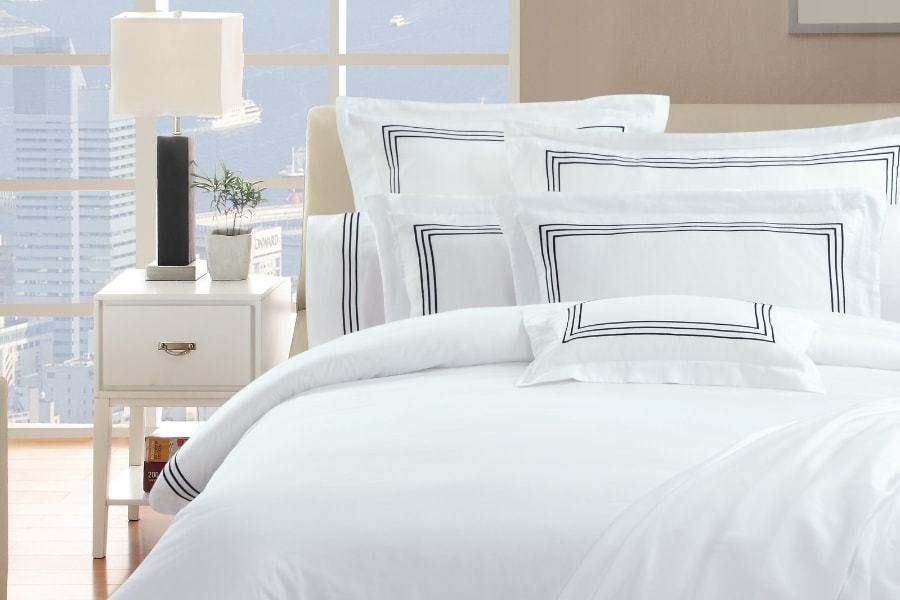 Hoteluxe is one of Manchester Collections exclusive brands, here to bring you the ultimate in luxurious bedding for your home. Everything has been designed with comfort, longevity, and style in mind to give you an unbeatable experience.
Simple, elegant, and stylish, the Hoteluxe range is as attractive as it is versatile. Favouring clean neutral colours and subtle patterning, you'll be able to fit Hoteluxe into any aesthetic you desire.
Let's explore how this brand can help revitalise your bedroom.
Make your bed with Hoteluxe
Are your sheets in need of replacing? Or simply want to add a new style you can change to as your heart desires? Remake your bed with Hoteluxe's range of elegant, superior comfort bedding.
The Hoteluxe goose down quilt is the ultimate in luxury and one of the best quilts you'll find. Goose down clusters are renowned for being supremely large, lofty, and cozy, resulting in a quilt that feels unbelievably light yet brilliantly warm.
It's not just the goose down that provides superior comfort. The internal box structure of the quilt ensures that the down remains evenly distributed for many nights to come. No more own piling in awkward clumps; just smooth, even temperature control all night long.
The whole construction is then topped off with a silky-smooth 500 thread count cotton sateen.
This 85% goose down quilt offers the greatest warmth for the coldest months, perfect for deep winters down south.
It can never be overstated how important it is to keep your pillows clean. They can easily collect particles, bugs, and pests, so maintaining their cleanliness is essential.
Hoteluxe's cotton pillow protectors will not only protect your pillow from pests, bugs, and contaminants, but by association your skin and hair follicles as well. By protecting your pillow, you'll protect your face while you sleep.
These pillow protectors are 100% cotton filled with a luxury cotton sateen casing. This provides the greatest comfort for the most restful sleep.
The quilted sleep surface is double-sided, so there's no "right way up" to think about. They seal shut using a convenient zipper, providing a secure barrier between you and your pillow.
Maintenance is a breeze — machine wash and tumble dry.
And best of all, their all-cotton construction will keep you cool and dry during those hotter summer months.
Lay on luxurious Bamboo 600 thread sheets
These Hoteluxe charcoal, 100% cotton bamboo sheets are beautifully smooth and soft, and extremely durable. Once you set these on your bed, you're in for years of comfortable, relaxed sleep.
The stark black of these sheets will add instant class to any bedroom aesthetic. Set them off against bright quilt covers, or create instant luxury style with mixed neutral colours.
Hoteluxe bamboo 600 thread count sheets are hypoallergenic and antibacterial, giving you a clean, hygienic space to sleep every night. The fabric is soft, comfortable, and breathable, perfect for most climates.
And to top it off, bamboo is an eco-friendly, easily renewed resource, so you'll keep your environmental impact low.
Style your bedding with 1000 thread count quilt cover sets
This 1000 thread count Hoteluxe quilt cover set will introduce a fresh, modern feel to any bedroom. This cover brings to the fore a minimalistic approach to your bedroom decor.
These sets, white with either black or mocha detailing, perfectly evoke the experience of staying in a luxury hotel. Bring the sense of your greatest holiday into your home and feel spoiled every morning when you wake.
Each set comes with two pillow cases. Matching European and Oblong cushions are also available. Contrast the stark white against the Hoteluxe bamboo sheet set for an instant, high-class style that's simply irresistible.
In conclusion
Sleep in comfort and live in luxury with Hoteluxe's unique Manchester Collection offerings. Simple, elegant styling perfect for all design choices are ready and waiting for you. Visit our product line to see more luxurious styles to choose from and start rethinking your bedding today.
---
Leave a comment