Minimalist Design Style - 10 Tips Tor Achieving the Minimalist Look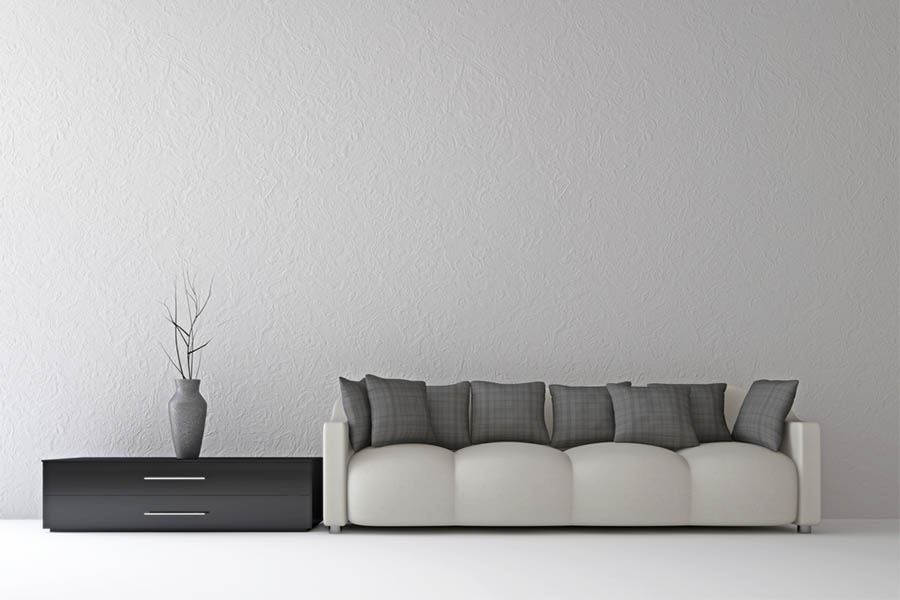 Minimalism is one of those interior design trends which never really goes away, and while it may have been somewhat overshadowed by other cyclical styles such as the natural and industrial looks of late, it's currently experiencing a major resurgence in popularity. Regardless of your budget or any imposed design constraints, this versatile, enduring aesthetic is a suitable style for most sizes of space. Here, we'll tell you absolutely everything you need to know about the minimalist style and guide you through some of the best ways to get the minimalist look in your own home. If you are interested in reading about other interior design styles, please read our interior design styles guide.
What is minimalist design?
Minimalism: noun
"A style or technique (as in music, literature, or design) that is characterized by extreme spareness and simplicity"
As you'd expect from this definition, minimalist design principles are inherently simple and streamlined. Only items and design elements which are necessary for either practical functions or aesthetic interest are included, meaning there's no added fuss or surplus detail. Each element within a minimalist canvas must work together in harmony, rather than clashing or contrasting. Minimalism normally involves a simplified palette of colours, with muted tones winning over more striking accents. The monochromatic black and white is popular but, other shade pairings also work, provided they work in sync.
Origins of the minimalist style
It's easy to think of a minimalist space as being inherently contemporary but it's actually far from a new design concept. The minimalism style has roots dating back to the early 1900swhen a Dutch art movement, De Stijl, pushed for a more abstract take on the use of colour and line in design. These early examples were later incorporated into post-WW1 architecture, where clean lines and open space became increasingly important – yet the same emphasis on de-cluttering and streamlining can be found in traditional Japanese design too. Minimalism can today be found in all kinds of design projects, ranging from clothing to interiors and even web design.
Why minimalist design?
There's plenty of reasons to make your next design project an exercise in minimalism – you'd certainly be in great company as an increasingly impressive selection of designers are opting to make their own projects minimalist in style.
By focusing on space and simplicity, design enthusiasts can develop a space which is entirely their own yet is also harmonious. Many are deterred from the trend for fears the end result will be cold, clinical and unwelcoming, but there's no need for this to be the case. Minimalist design is a fantastic option for a multitude of different spaces, and it almost always succeeds thanks to its focus on shape, colour and texture rather than an abundance of elements and furniture.
Ten Tips for Getting The Minimalist Look
Achieving your minimalist design dreams needn't be a headache – the following tips will help you incorporate the best of minimalist design into your space:
1. Simplify your colours
A minimalist look and feel can be instantly forged through the use of neutrals like beige, cream and brown. Some more dramatic styles lend themselves to a monochromatic colour palette of black and white. If none of these colours appeal however, there is a solution – choosing a muted colour slightly outside of this spectrum, and mixing it with a complimentary accent colour which provides a highlight to your minimalist furniture and accessories.
Avoid adding colour for the sake of it – the simpler and more complimentary the colours, the more spacious the room will appear. This is a key cornerstone of successfully pulling off a minimal style.
2. Break up the space
Open spaces and open plan rooms are both ideal for a minimalist aesthetic, but you don't always need to have tons of space to achieve this look. Instead, invest in room dividers and partitions, alongside low cabinets and bookcases, as a means of optimising the space you do have.
For larger-scale minimalist interior design projects, such as a grand room or large kitchen, you can look into reducing the number of walls in your room, but this will of course involve a bigger investment of both time and money. Again though, you should prioritise clean rooms, insert furniture that is only absolutely necessary and pay close attention to the shapes of any items you use to break up the space. Look for simple silhouettes, streamlined, clean shapes and little to no detailing.
3. Clear away the clutter
Crowded rooms do not lend themselves to minimalism. Instead, proponents of the style suggest carefully clearing away excess clutter with clever storage solutions. You'll need to be ruthless here as this trend places a strong emphasis on ensuring that all items on display serve a practical function. This is similar to the traditional 'Zen' approach to de-cluttering.
4. Focus on balance and proportions
Whilst some styles emphasize a more eclectic aesthetic, minimalism is all about finding balance. Minimalist furniture should be in proportion with both the room and the rest of your décor, so as to create what appears to be a natural space rather than one in which every item stands out. This doesn't mean everything must match, but coordination is the key. Whatever you do, it must be intentional – rather than the result of accidental disharmony.
5. Remember the materials
Minimalist styles rarely include fussy or ornamental details. Instead, strong shapes are favoured. However, that doesn't mean you can't add a little extra flourish by mixing your materials, or add some colour with flowers artfully arranged on your minimalist table. All of this will help to personalise the look without detracting from its key principles and that trinity of shape, texture and colour. Metal and glass are popular materials to incorporate into your minimalist design project as they help to bounce light around the room and tend to have very clean, sleek finishes.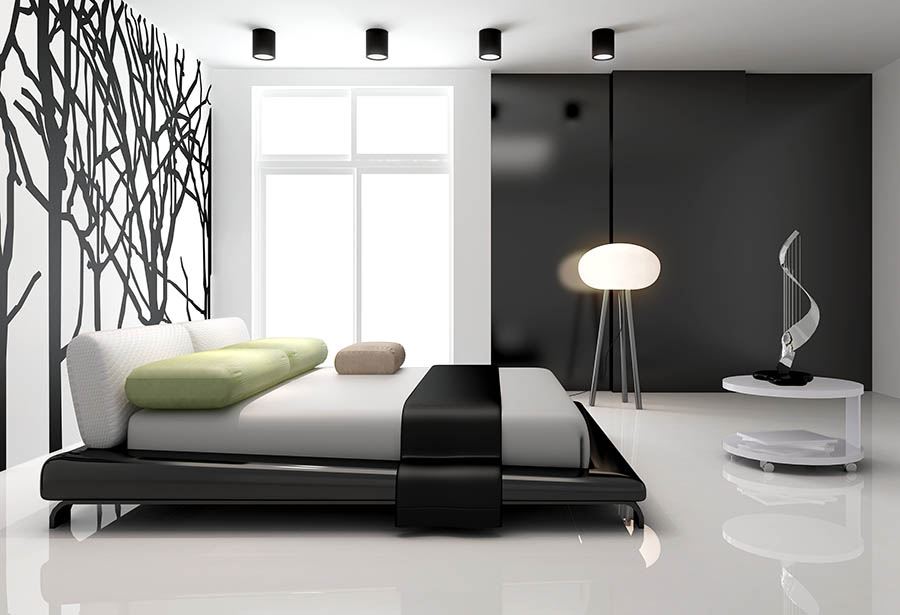 6. Organise your lighting
You can further streamline your minimalist interior design with the use of clever lighting. In minimalist interior design, lighting is used to highlight specific areas or simply to emphasize the simplicity of the overall space. Daylight should be able to circulate with ease around the room, but concealed artificial lighting is also a powerful tool and makes for an ideal, unobtrusive solution which will help to create a sense of space without impeding the overall look and feel.
7. Choose a focal point
If neutrals aren't your thing, then why not choose a single focal point to build around? This spin on minimalism allows for a little more vibrancy as well as customisation, but will not take away from the basic principle. Focus on the lines you are bringing to the room; perhaps you can draw the eye to the centre with an interesting rug, painting or table? Remember here, whatever the focal point, whether that's a stunning glass coffee table with brushed metal legs, it must be functional to earn its place in your minimalist room.
8. Focus on function
All great minimalist design puts function front and centre, which is why there's so little added fuss. Transitioning your home to a more minimalism-inspired style could be much easier than you think; simply decide whether each piece has a purpose, and try to discard those which do not. Your interior needs to be a place of harmony and calm, but you can also add extra touches to ensure areas are kept clean and tidy. Consider adding a storage space or basket to your living room or another area of high footfall to ensure that you can quickly stow objects which are out of place. In a lounge or den, a high gloss TV cabinet with handless drawers or cupboards makes light work of hiding away essentials such as media players and remote controls.
9. Don't forget the flooring
A great floor can help signal your minimalist credentials, and there's so many options to choose from. Carpets aren't completely ruled out, but wooden floors, marble and stone flooring remain some of the most popular options – and they're also easy to maintain and create a seamless look, opening up your space.
10. Leave empty space
It can be tempting to try and fill all of your available space, but emptiness needn't be dull or bland. Don't give in to the impulse to fill every corner, hang things on every wall or place ornaments on every table, and you'll be well on your way to creating a minimalist utopia. Again, refer back to whether each piece has a function. If not, it has no place in a minimalist space. Still not sure? Refer to this list of 14 things that have no place in a minimalist home.
Why is minimalism everywhere?
One of the main reasons for the popularity of minimalism is its sheer adaptability and simplicity. Not only does a minimalist space instantly look and feel more calming, but minimalist design principles can be adapted to suit all kinds of spaces from homes to workplaces and public spaces.
Much like the Danish, Australians are beginning to gain international recognition for minimalist design with one interiors blogger noting the Aussie tendency towards organic, minimal and neutral styles – all words that can be used to describe a successful minimalist space. Perhaps one of the reasons that minimalism is a very popular trend is that it dovetails with others, such as that of rustic finishes and natural interiors.
Blogger 'The Modhemian' sums this juxtaposition up perfectly, noting "Characterized by their affinity towards raw wood finishes, soft natural fibers, clean but still cozy lines, low deep profiles, monochromatic color schemes, minimal pattern interruption and a touch of coastal woven texture, the Aussies have a way of bringing the outside in that speaks to my California side."
---
Leave a comment