Contemporary Design Style - Top Tips for Achieving the Contemporary Look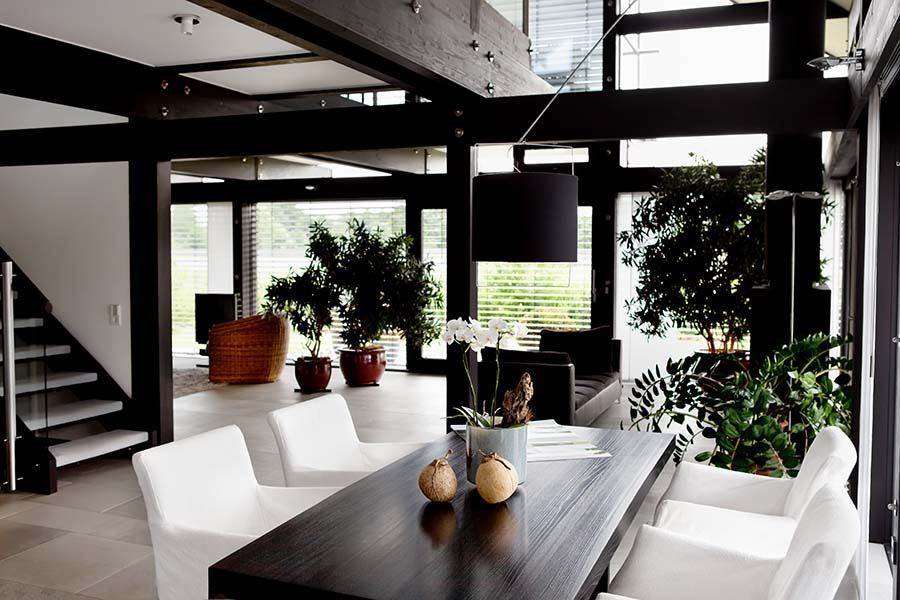 When we look at the way we live every day, we can see that the contemporary movement affects every part of our lives.
From the cars that we drive, the clothes that we wear to the architecture and interiors that we want to live in. But, what does contemporary design really include and how can an average person pull it off in their home?
Well, it's easier than it might seem, especially when you know a bit about the style, its origins and elements.
So, check you this little guide and you'll have a beautiful contemporary space in no time.
What is contemporary design?
When you translate the word "contemporary" it means literally "of the moment".
This fact makes the contemporary design very hard to define, because what is of the moment today, might be outdated in a year or two. Other styles are constant and unchanging, but contemporary design changes with each new trend.
However, looking from the standpoint of 2019, this interior design style is defined by curved lines, neutral colours, minimalist spaces and light and airy vibe. Therefore, we have no way of knowing what contemporary style will look in the future.
Origins of contemporary design
The term contemporary when connected to design and art became popular in the 70s and referred to the design and look of the present. It came to life as a union of different styles and only later it developed enough to become its own style.
Initially, the contemporary design borrowed elements from everything from modernism to Art Deco, futurism and many more.
One thing that has to be pointed out that contemporary design isn't synonymous with modern design.
Even though these terms are often used interchangeably, modern design follows a strict pattern while contemporary design changes, borrows from other styles and mixes different elements.
Tips for achieving the contemporary look
In order to define the elements of contemporary design, we must see what's in today. So, here are a few must-have design elements that will instantly transform your house to a contemporary abode.
Open floor plan
Having clearly separated kitchen, dining room and living room is considered outdated and traditional.
Contemporary spaces aim to unite all the rooms into one big experience. Experts here use the term "great room" in order to further highlight the blurring of room boundaries and walls of certain living spaces.
An open floor plan allows people to unify different spaces, boost social behaviours and provide uninterrupted flow throughout the home. This is what makes the open floor plan crucial and ideal for introducing the contemporary aesthetics to your home.
Neutral colours
While modernism concentrates on natural colours, contemporary style prefers clear neutrals like black, white and grey.
White is the usual colour of choice for walls, while black is used to ground and define certain spaces in the room.
Many people might think that these neutrals make a very dull and sterile room, but they actually provide a perfect backdrop for bold colour accents and make them pop and stand out.
These colour accents give the contemporary style its recognizable edge that's beautiful yet easy to pull off.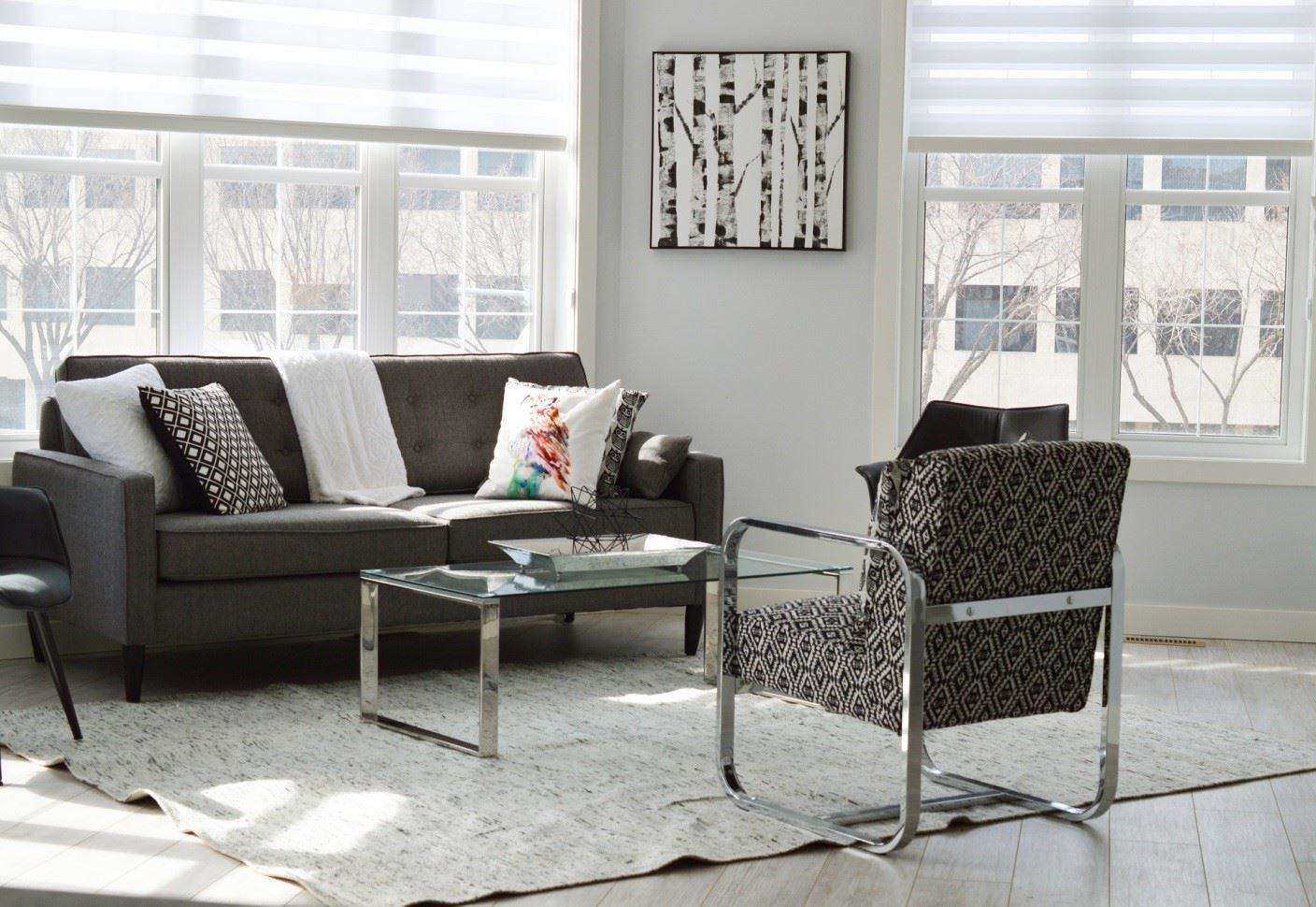 Clear lines
One of the first things people notice about contemporary design is the lines. No matter if they are vertical, horizontal or curved, their strong presence is always visible in any contemporary style space.
They are found in furniture, windows, floors, architectural details and decorative art.
Even structural elements can be used to accent the lines in your space. For instance, air ducts on the ceiling, bricks in the wall and plumbing and heating pipes all have interesting linear structures that will look amazing in every contemporary space.
If you want to make them pop, you can paint them in a bold colour, or if you prefer a more minimalist approach, blend them with the background.
Whatever you do, these elements will still add beautiful depth and interest to your space.
Natural materials
Since green architecture and eco-friendliness are getting more and more attention in the media, the use of natural materials is becoming a key element of contemporary design.
All sorts of organic materials, not only wood, are present in a contemporary space. Stone, slate, cork, leather, wool, jute and other naturally sourced materials can be found in everything from contemporary living rooms to bathrooms and patios.
One of the reasons why these materials are so popular is their unique textures, which brings us to our next element.
Rich textures
Since contemporary spaces often have a very minimalist and neutral vibe, designers choose to add warmth by introducing various textures into the space.
Fabrics such as wool, jute and leather found their way to furniture, window treatments and rugs and they give the space a welcoming feel without disturbing the clean look. When choosing your textured elements, stay away from overly elaborate patterns and opt for a more natural look of the material.
Metallic accents
Tanks to their sleek finish and clean look, metals have a very important role in contemporary design.
Stainless steel, nickel and chrome are especially desirable, plus, they are very easy to incorporate into any space. They can be used in everything from kitchen appliances to decorative accents.
For instance, you can introduce a few metallic accents to your home with lamps, side tables, shelves and artwork. However, make sure to keep the style of these elements consistent in order to create a coherent look from room to room.
Simple furniture
The furniture in contemporary design makes a bold statement while being simple and straight-forward at the same time.
There should be no unnecessary curves and decoration—smooth, clean and geometric is where it's at.
Furniture pieces with upholstery are often adorned in black, grey and white tones of wool, cotton, linen or jute materials.
These fabrics are not only very simple and natural, but have a strong textural appeal that fits in perfectly with the contemporary design philosophy. For a pop of colour, experts often use decorative pillows with clean shapes and simple geometric details.
Remember that less is more in this interior design style, so simple furniture with a few splashes of colour against a neutral background creates a very powerful effect. Also, all types of furniture from sofas to chairs look best when they have exposed legs. Think basic, bold and structural when furnishing your space.
Light and airy environment
Sunlight in a home is not only practical, but it also has a very strong psychological and physiological effect on humans.
And since contemporary spaces put a strong emphasis on health, the importance of natural light is another major principle of this interior design style.
Large windows, glass walls and skylights not only let plenty of light in but also allow nature to enter your home and be a beautiful background to your design. With the contemporary design, dark and gloomy rooms became a thing of the past.
Fuss-free widow treatment
While we're on the subject of light, pay special attention to your window treatment. With big windows and panorama views, keeping your window treatment minimalistic is the best approach. They provide the space with plenty of light and create a clean and fuss-free look.
However, if the rest of your space is very simple, your window treatment is a great way to add some interest and contrast to your contemporary home. You can opt for a very natural yet attractive look with wooden blinds or go very light and airy with floor-to-ceiling curtains. Both of these window dresses will add some drama and luxury to your space (no matter if you install them in your living room, bedroom or dining room) without interfering with the clean aesthetics.
Bold decoration
While your colours and furniture calls for a minimalist approach, you can really get creative with art and decorative accents in your contemporary home.
Everything from lamps to painting and sculptures will make your home burst with character in a very uncluttered and clean way.
For instance, you can opt for a single large canvas painting that will really pop or dedicate a corner to a gorgeous sculpture. As long as you don't make these décor pieces compete with each other and clash with the style, they will be a beautiful addition to your contemporary space.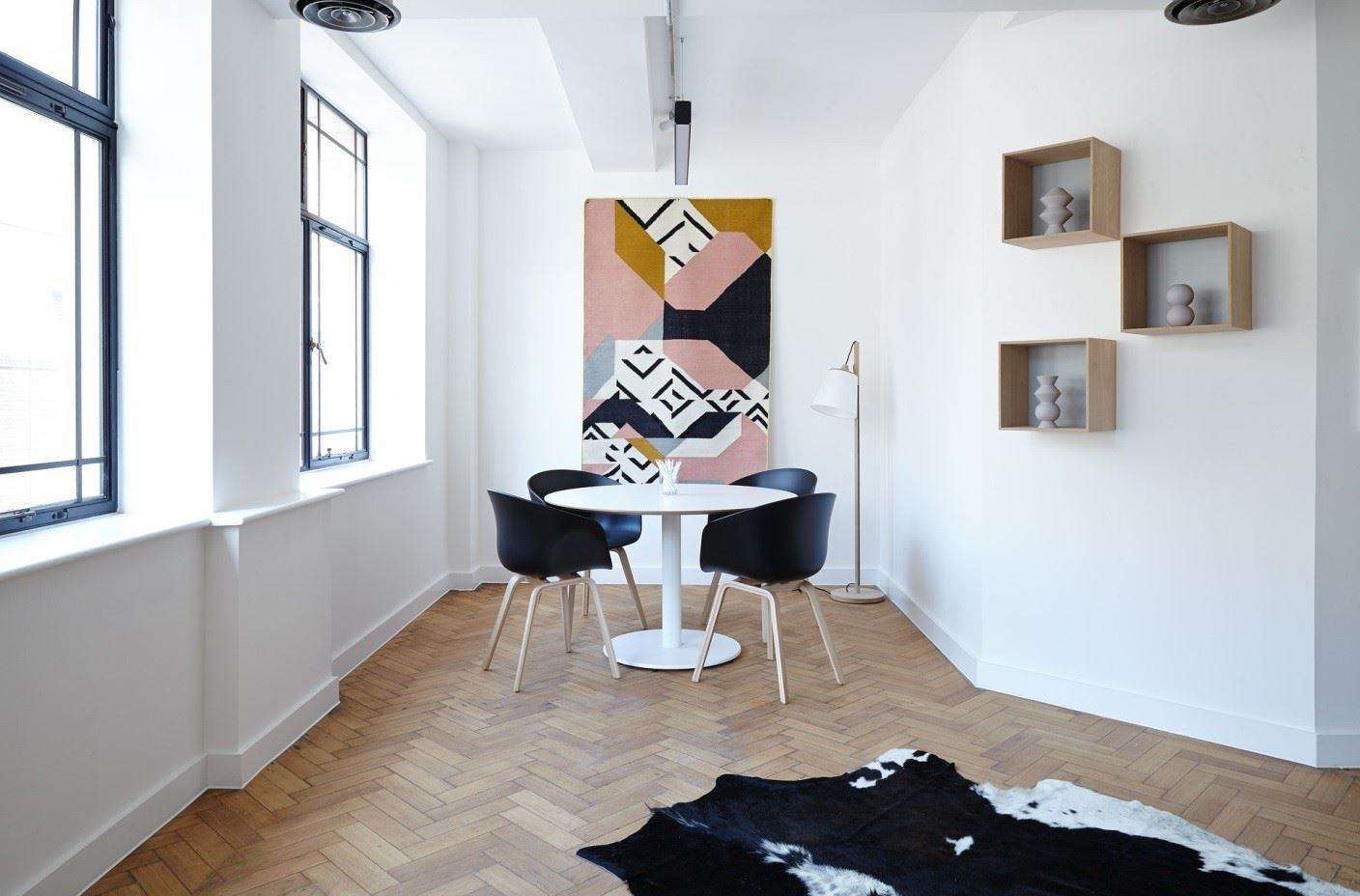 Why choose contemporary design?
If you want to transition to a more minimalist look that's uncluttered and clean, but still a bit warmer and natural than pure minimalism, contemporary design will be perfect for you.
A simple yet harmonious contemporary environment will fill you with peace and comfort that's relaxing both for the mind and the body.
Additionally, contemporary style is practically timeless with its classic approach to simplicity and luxury.
It's a design movement that will never go out of style, is easy to update and transform and very simple to create. So, if you see yourself in any of these descriptions, redecorate your home with contemporary style and you'll not regret it.
Contemporary design is really rising in popularity and you can see it everywhere from home to offices and other commercial spaces. It seems that this interior design style isn't going anywhere but forward, so feel free to hop on the bandwagon.
Interested in reading about other design styles? then have a look at our interior design style guide.
---
Leave a comment