Descriptions

---
Features
400 Thread Count 100% cotton with sateen finish

Exceptionally durable, soft and silky smooth

Contemporary pallet of colours available

Size - 78cm X (36+42cm)

1 U-Pillow Case per pack

NOTE: Pillow case photos are for colour references purposes only
Why Allura Linen Hotel Collection Bed Sheets
The mix which creates a high-quality sheet
Fibre:
Longer fibre is ideal, because when you spin the yarn, it gives it strength, which means less pilling.

Cheap sheets, use poor quality fibre which translates into poor yarn and no strength/quality
Weave: A quality weave,
Depends on the type of sheet, most people generally prefer the sateen weave. All it means that the technique used offers customers are more sateen look which gives it that more luxurious look.
Finish is everything:
Cheaper sheets are associated with uneven, or poor quality stitching. I can guarantee you there is a huge difference on where the sheets are manufactured and by which manufacturer. We only source sheeting from respected world leading manufactures in China, which are currently make sheets for the worlds biggest sheeting brands.
Numbers are not what they mean:
Even if a sheet has a high thread count, that can be inflated by manipulating the sheet making process with a low-quality construction or thread. Always buy from reputable retailers, the old saying goes, if its too good to be true it always is
Note: 400TC fitted sheet, Pillowcase(s) are not included but can be purchased seperately.
Practical advice when buying sheets - FAQ
What size sheets do I need?
Unlike quilt covers, you buy sheets based on mattress size, all sheets featured on our website have depth of 40cm or more, (compared to standard depth of 30-38) thereby fitting most mattresses.
Have a high mattress, having a hard time slipping on a fitted sheet?
We offer a select range of sheet sets which feature mega fitted/flats

We also offer fitted sheets individually, which come in mega depth size, to make allowances for high mattresses
What construction, Cotton, Cotton Blend, Bamboo Cotton, Microfibre / polyester
Depends on preference, but in our experience the most popular fibre is 100% Cotton sheeting. However, in recent times, there have been upgrades to bed sheeting technology which has led to the rise of new blends offering new textures and features. We just recommend customers to avoid 100% polyester (microfibre) sheeting due to their poor character traits which customers are unware of when buying sheets such as poor breathability.
Why Cotton? sometimes traditional is best
Cotton sheets offer the greatest breathability; they allow for the mattress to breath and help better regulate temperature.

Cotton Rich sheeting are also increasing becoming popular, but when choosing between better and best, cotton is the one we recommend.

Bamboo/Cotton is a new technique in sheeting, and offers different properties to pure cotton such as greater lustre and softer finish.
What Thread Count Sheets?
We stand by all our sheets offered by us on our website, our 400 Thread count is our most popular. They are in fact much better than most sheet sets offered online regardless that they state they are higher thread count, most generally are not and are not labelled correctly.

We offer sheeting at all thread counts and price points, we generally recommend a minimum of 400 thread count. Our 1200 thread count sheets are among the best in the industry, manufactured to best practices in the world and only the highest quality cotton sourced. Being an importer has its advantages, as we can selectively source the best quality at best prices.

Tip

Be mindful of other online retailers, and there selling tactics, as we have a lot of customers coming daily into our stores and showing us sheets offered online and how they wash up.

Note, not all 1000 thread counts are created equal,

the cheaper ones sold by smaller retailers or online deal companies, the difference is in the cotton. A high quality high thread count sheet set needs long staple cotton, most of the cheaper sheets sold online are in fact using very poor small staple cotton. A high-quality sheet set sold last you for years and remain in perfect condition after each use, however the cheaper ones dont stand the test of time. Most of the customer complaints in store are just after one use.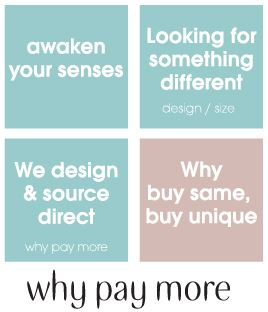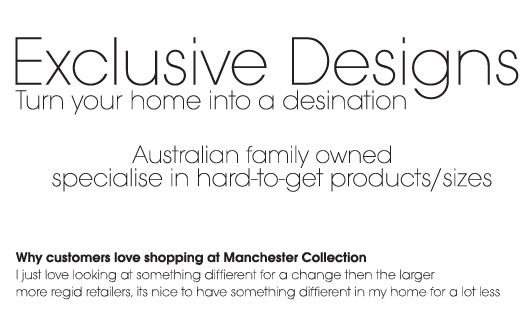 (400TC_UPCASE)
Wash prior to first use.
Launder whites, colours and prints separately.
Warm hand or machine wash inside out on gentle cycle (40c) using liquid detergent.
Do not rub, soak or wring.
Do not bleach.
Line dry in shade or tumble dry on low.
If desired press with cool iron on reverse.
Do not dry clean.
NOTE: This is a general guide, please always strictly follow product care instructions on product
Delivery
Orders received are normally processed next business day, except where stock not avaliable or needs to be recieved from store. Please allow 1-2 days in busy periods. If something is urgent please call and find out exact details.

Australia post & Fastway approximately quote the following time frames, (1-4) days for VIC & NSW, (4-6) days for TAS, SA & QLD, (6-9) days for WA & NT

There is a set $12.95 delivery fee for orders under $50 (After Discounts). Free Delivery for orders Over $50 (after discounts).

Specialty item(s) may attract a higher delivery fee due to quantity, size and/or weight

No international delivery is available
Returns
We hope you love your purchase, if not, easily return your item(s) instore or via post with 14 days of your order being received with proof of purchase and original packaging

Go to our store locator to find your nearest store or call our head office and we will happily assist.

Please note Quilts, Pillows and underlays are excluded due to health and safety regulations as set down by the Australian government. This does not apply to faulty items. Faulty item postage returns are refundable.

Please choose carefully as change of mind returns via post are at customer's expense

Please note, once order is placed, the order cannot be changed until dispatch.