How To Make Your Room Brighter With Bedding Choices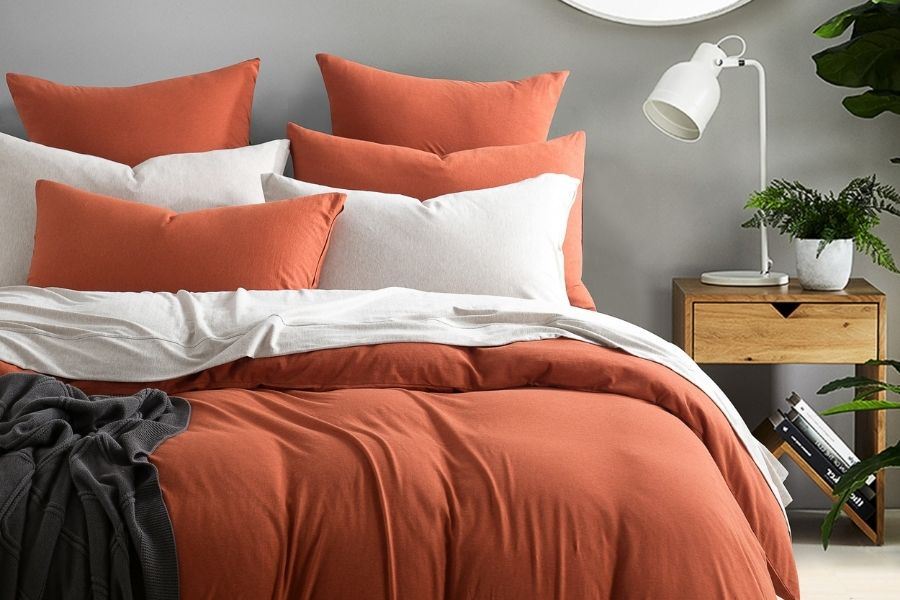 Do you have a dimly lit room that doesn't get much natural light? No problem. We're going to give you some ideas to brighten the room — with the appropriate kind of bedding. There's still many benefits of such a space, including staying cool in summer and not disturbing your sleep early in the morning. So, let's take advantage of these benefits and improve on them with some simple tips.
1. Keep Bedding Simple
When a room receives little light, it can quickly appear cramped. Thus, bedding shouldn't be too busy looking, avoiding any unnecessary clutter. Try to steer clear of bed sheets with embellishments or bold prints. The key is to blend the bedding seamlessly with the rest of the space. The simplest way is to keep to one colour scheme throughout the entire room and add splashes of a different colour with throw rugs, cushions, brass finishes etc. Below are some versatile pieces from our collections.
https://www.manchestercollection.com.au/bespoke-1200tc-quilt-cover-set-white
https://www.manchestercollection.com.au/ivy-white-quilt-cover-set
2. Choose Cool Colours
Brighten a room with the transformative power of colour. The guaranteed option is classic white — an oldie but a goodie. For something a little different, consider cooler colours, like blues and greens in a pale shade. These add depth and dimension to a dark room, thereby making it appear more spacious and filled with light. To help you get started, check out these bedding options. Search for White Quilt Covers Now
https://www.manchestercollection.com.au/oscar-quilt-cover-set
3. Work With The Darkness Of The Room
Take a look at your poorly lit room with a new perspective. Instead of seeing it as drab and small — see it as cozy. And don't we all want to sleep in a warm and inviting bedroom? So use that to your benefit. Style & decorate using the colour chocolate — it'll create a moody sanctuary perfect for a bedroom. You can even choose darker tones like teals and forest greens for your room, especially for the walls. Darker colours don't absorb as much light, so they will blur the room's edges, taking away attention from the small space. For a moody cocoon-like vibe when the walls are painted with darker tones, keep the same colour scheme with the bedding — but spice it up with exciting textures and different shades. Either match the dark tone of the walls with the bedding or contrast it. Take a look at these examples to see which you like better.
Bedding that perfectly suits these colour palettes
https://www.manchestercollection.com.au/soho-1000tc-quilt-cover-set-forest-green
https://www.manchestercollection.com.au/bespoke-1200tc-quilt-cover-set-navy
https://www.manchestercollection.com.au/daphne-green-quilt-cover-set
https://www.manchestercollection.com.au/jersey-quilt-cover-set-charcoal
4. Create Your Own Pops of Sunshine
Not a lot of natural light in a room? Simply create your own with colour. What's the colour of sunshine? Think rich yellow, terracotta and orange. The best way to execute this concept is to have the remainder of the room be in a more neutral palette. The most versatile and contemporary colour being charcoal grey. You can personalise the grey to your taste. For a more moody room, choose a darker shade of grey, and if you're looking for something a little lighter, paint with a paler shade of grey. Add the pops of sunshine in the bedding, throw rugs and cushions — and watch your room transform. Below are a few pieces from our collections to get you inspired.
https://www.manchestercollection.com.au/soho-1000tc-quilt-cover-set-rust
https://www.manchestercollection.com.au/jersey-quilt-cover-set-rust
https://www.manchestercollection.com.au/ash-mustard-cushion
https://www.manchestercollection.com.au/flint-orange-cushion
https://www.manchestercollection.com.au/gus-mustard-cushion
https://www.manchestercollection.com.au/miles-throw-orange
---
Leave a comment